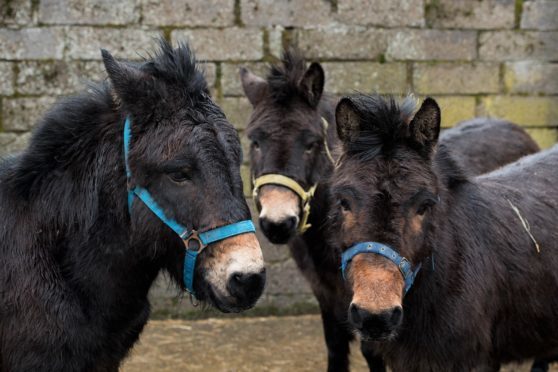 Three neglected Aberdeenshire mules who were suffering with extremely overgrown hooves in Aberdeenshire are recovering after being rescued by an animal charity.
Maisie, Indie and Oscar were offered a lifeline by officers from the Scottish Society for the Prevention of Cruelty to Animals.
The trio, whose owner could no longer look after them, were discovered in a state of serious neglect.
Their hooves were so overgrown that they had painfully curled back on themselves and required immediate treatment.
The Donkey Sanctuary was called upon to provide expert care to the animals and, following veterinary advice, transported the mules to its north of Scotland holding base for treatment.
All three needed sedating so the farrier could remove the excessive curling and twisted hooves.
It is hoped, however, that all three will make a full recovery.
Gill Hamilton, The Donkey Sanctuary's regional donkey welfare adviser, said there were already signs they are improving.
"If these poor animals were left eventually they would have been unable to walk due to the shape of their hooves and the damage to their joints and tendons.
"All three mules had been left to fend for themselves and were not used to being handled.
"Although Maisie still presents more of a challenge, Oscar and Indie are now allowing me to stroke them and we have established a daily routine."
The animals remain on pain relief to help them adjust to their newly-shaped hooves and future X-rays will determine if there is any lasting damage.
Scottish SPCA Inspector Maria Bain added: "We were alerted to the mules after receiving a call to our animal helpline.
"After attending the property and speaking with vets and a farrier, advice was issued as the mules weren't in great shape.
"Due to several reasons, the owner decided he could no longer care for them.
"We urge owners who are no longer able to care for their animal to consider rehoming."
The Donkey Sanctuary works to transform the quality of life for donkeys, mules and people worldwide through greater understanding, collaboration and support and by promoting lasting, mutually life-enhancing relationships.