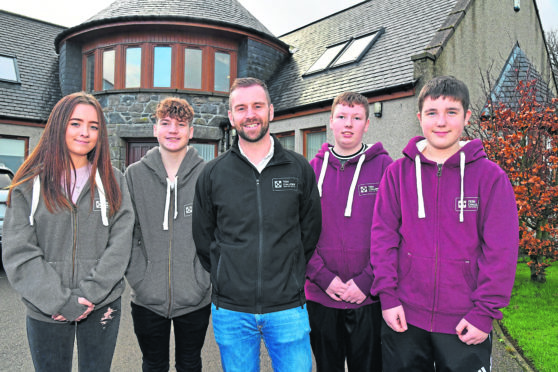 Two teams of philanthropic youngsters have helped boost the future of women at a north-east recovery centre.
Pupils from Mintlaw Academy and Peterhead Academy both secured £3,000 for Benaiah, after choosing the charity – which takes in recovering addicts and their children – to focus on for their Youth Philanthropy Initiative (YPI) projects.
The YPI challenges pupils to raise awareness, and funds, for a local charity and present what they have learned to a panel who then pick the winning team.
Run by Teen Challenge North East, Benaiah is the only addiction recovery centre in Scotland which has the capacity and equipment to accept children along with their mothers.
While they stay at the centre, women are taught self love, study temptation and participate in a faith-based programme.
The money raised by the pupils in Peterhead and Mintlaw will be used to fund their time at the centre.
The Mintlaw team – Paige Byers and Kyle Strachan, both 15, with Connor Galloway, Ryan Greig and Maggie Wallace, aged 14 – visited the centre during the last week of term.
Kyle said the whole team had picked Benaiah, and that he was thrilled their hard work had paid off.
"It was really interesting," he said. "We were a bit nervous but when we started getting into things and seeing the difference between how bad life was for people before they came in and the change when they left was amazing.
"By doing this we found out how hard the girls struggle and we're really happy with our win."
Connor added: "We were really happy and excited when we won.
"Seeing around Benaiah and meeting some residents showed us how drugs can really affect you."
Rebecca Strachan, Iona Rennie, Shana Cheyne and Ellie Macintosh won the prize for the Peterhead Academy branch of the competition.
Paul Beaton, support worker in Benaiah and the men's facility Sunnybrae, praised the work of both groups.
He said: "At the beginning, when the Mintlaw group first came to visit, we calculated that the average number of years of addiction for the residents at the time was 14, the same age most of the group were.
"They certainly had their eyes opened when they came here.
"The teams now understand that we are here to help residents get emotionally, physically and spiritually well.
"A big part of the money will be helping refurbish Benaiah to make the most of the space, transport those in need and with the general running of our centres."