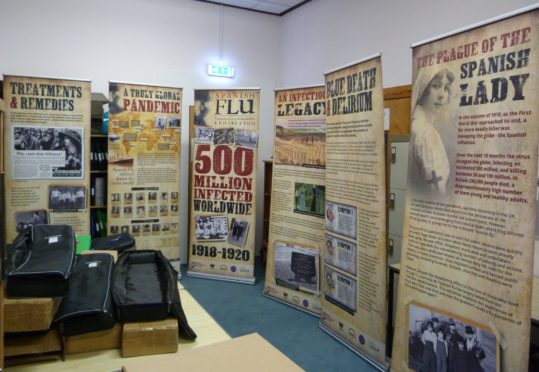 An new exhibition tells the incredible story of the impact deadly flu had on the north-east a century ago.
During the Spanish Flu pandemic between 1918 and 1920 there were 321 influenza-related deaths in Banffshire with the area's medical officer reporting that outside of the cities, it was one of the worst affected counties in Scotland.
The outbreak in this region started in Gardenstown in September 1918 and it was thought to have been brought in by a sailor who travelled to the village from Portsmouth.
At the time the Register General for Scotland said the country's death toll was 22,000, but was this thought to be an underestimation due to inaccurate reporting of the cause of death.
Around the globe, an estimated 100 million people lost their lives.
Now the story of what is widely recognised as the one of the most catastrophic medical events in human history is being told in a new showcase at Banff Academy.
The exhibition is a collaboration involving the Florence Nightingale Museum, Aberdeen City and Aberdeenshire Archives and Aberdeen City Libraries.
It includes banners made by the London-based museum as well as information on the impact the disease had locally.
Katy Kavanagh, archivist at Aberdeen City and Aberdeenshire Archives said: "It is easy to forget that at the time of the Armistice on November 11, 1918, many people at home and in the trenches were fighting this new enemy.
"The exhibition includes material from Aberdeenshire Council's archive and newspaper collections and is a timely reminder of that global event and Banffshire's experience of it, as well as the vital role that nursing played in combatting the disease."
The first cases of Spanish Flu pandemic were officially recorded in Kansas in March 1918 and the last around March 1920.
It started off with common flu symptoms, but would soon leave patients struggling to breathe.
Victims then began to haemorrhage from the nose and mouth.
As the flu reached its final stages, their faces would turn blue before their entire bodies turned black.
The exhibition will be at Banff Academy for the next week, before moving to Banff Library from March 9 to 22 and then on to Woodhill House for a week.