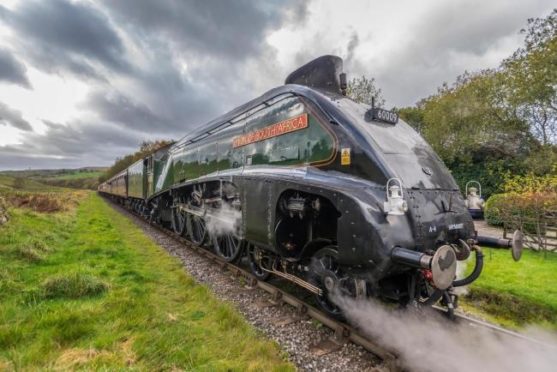 One of the world's most famous steam trains will arrive in Aberdeen today.
The Union of South Africa will arrive in the city this afternoon, and return again on Sunday.
The engine – numbered 60009 – was based at Ferryhill from 1962-1966, and will return to its former berth during the trip.
It comes after the Ferryhill Railway Heritage Trust installed a new railway turntable, allowing steam services to return to the north-east – much to the delight of both customers and travel aficionados.
Dr Jon Tyler, the chairman of the trust, said: "This is is the second steam locomotive to use the turntable since its restoration and the trust is now planning for next year when we expect up to 10 trips to Aberdeen.
"This is a major boost for tourism to the city and it has been all achieved by volunteering. So it is hoped that this success story will encourage further investment in the project at Ferryhill."
The LNER A4 class of locomotives was designed by Sir Nigel Gresley for use on the top-link expresses on the East Coast main line from London Kings Cross.
Other members of the same class include Mallard, which holds the world speed record for steam locomotives, and the globally-renowned Flying Scotsman.
Today, the locomotive will be involved in a one-day trip from Edinburgh to Aberdeen as part of The Great Britain XII tour operated by the Railway Touring Company.
On Sunday, it will convey passengers from Linlithgow to Aberdeen.
On both occasions, visitors have been invited to welcome the locomotive being turned at about 2.30pm. Entry is via the new footpath in Duthie Park, which can be accessed from Riverside Drive.