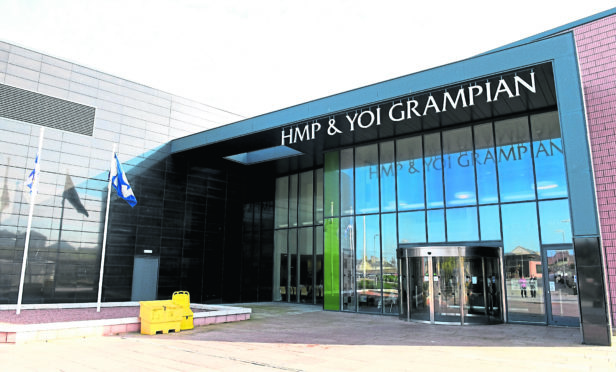 A whistleblower has offered a startling insight how north-east prisoners are getting their hands on illegal drugs, branding it an "epidemic" behind bars.
Yesterday The Press and Journal revealed the scale of HMP Grampian's issue with illicit substances, as guards are logging hundreds of incidents every year.
Many smugglers are turning to the postal system to attempt to transport drugs inside the Peterhead facility, with new figures showing that officers seized more suspicious packages in the last four months than in all of 2018.
And now a frontline officer has told The P&J exactly how criminals are attempting to flood the cells with illicit substances.
Speaking anonymously, they said outsiders are able to "synthesise" drugs using a specialised chemical process.
Once broken down, the substances are then embedded in everyday writing paper which is mailed to the prison.
The recipients then portion it into small pieces, each slightly larger than a postage stamp, and sell them for upwards of £175 a time to be smoked or vaped.
With each A4 page worth at least £18,000, the frontline officer estimates the crime lords responsible are likely making fortunes from the scheme.
"You can put any drug onto normal paper with this," the whistleblower said.
"In here, it's the worst-kept secret that's going. The drug ring must be worth hundreds of thousands of pounds."
It is thought the prevalence of drugs in prison is harming inmates' chances of rehabilitation.
The prison officer said that many fall into the trap of the behind-bars drugs trade to pay off debts accumulated on the outside, with repercussions if they fail to comply.
They said: "If they don't, they get their face cut. And there's been a lot of cutting at the moment."
While the drug-impregnated pages look like an ordinary piece of paper, they are often detected by sniffer dogs or through other techniques that cannot be revealed.
The Scottish Prison Service has launched a pilot scheme with Dundee University, which is continually developing new methods for intercepting these substances before they get into the hands of prisoners.
Tom Fox, its head of corporate affairs, said Scotland is only beginning to experience the emergence of drug-impregnated paper, which has been rife in other parts of the UK for much longer.
He added: "It's a real challenge and we are working hard to combat it."
Tomorrow: An Aberdeen scientist reveals the top-secret tactics being used to keep them one step ahead of the "cat and mouse" struggle with smugglers.