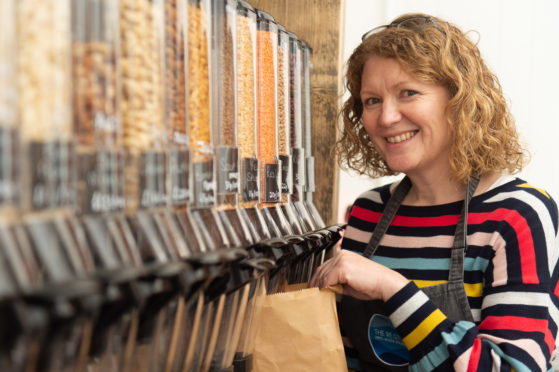 A Moray businesswoman is aiming to recreate shopping from a bygone era in an attempt to reduce food waste and excess packaging.
Former newspaper worker Alison Ruickbie has banned plastic packets on most of the products in her Re:Store shop in Lossiemouth – instead letting customers choose what quantities they want.
Large containers filled with pasta, rice and cleaning products are displayed across the Queen Street store ready to be tipped into refillable containers and weighed.
Mrs Ruickbie, who moved back to the region last year when her husband was posted to RAF Lossiemouth, hopes the concept will encourage shoppers to buy just what they need instead of pre-packaged supermarket sizes.
She said: "It's going back to how we used to shop and how things were in the old days when people used to go in and ask for things and it was weighed out.
"I'm not a hippy or an eco-warrior but we're almost at the point of no return with the environment, we need to make changes, even if they are little.
"It's going to be a new way of living and people have to get used to it.
"I opened up because I knew if I didn't then somebody else would come along with the same idea because it's a good business plan."
Since opening earlier this month, the businesswoman has developed a network of local firms to supply products to stock the shop including from vegetable grows, apple juice producers and egg suppliers.
Mrs Ruickbie said: "The perception is these kind of shops are expensive, but people realise that if you're only buying what you want instead of what the supermarkets want you to buy then it's not much different.
"I know people don't have big budgets but if things are in smaller quantities then it's more affordable.
"The best thing is I have met the chickens where my eggs come from and been to the farm where the apples for the apple juice are grown. People really value that connection now."