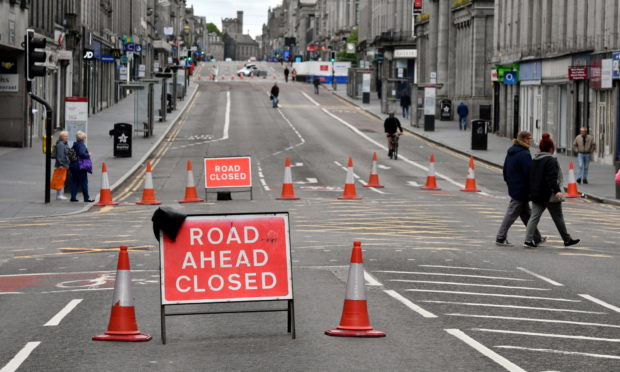 Opposition groups want power to be clawed back from civil servants amid fears of the business impact of coronavirus safety work.
Temporary measures to make some of the Aberdeen's most-used streets wider to allow for better physical distancing are being rolled out at pace.
The £1.76million Spaces For People project is being overseen by top officials as council meetings have been scaled back during the pandemic.
Group leaders agreed officers should take decisions in lieu of holding full council and committee meetings in March.
Only the urgent business and planning committees are still making decisions, along with a handful of sub-committees, by video call.
Civil servants have already already banned cars from a section of Union Street and Schoolhill as a means of ensuring the two-metre recommended distancing.
Although the plans were advised by business improvement organisation Aberdeen Inspired, some traders have warned the measures could force them to close shop.
Pavement widening plans, which will impact on space for traffic, will be drawn up for Rosemount Place this week – but fears have already been raised about the impact of pedestrianisation, one-systems and loss of parking will have on independent businesses in the area.
Similar temporary work will follow in George Street, Victoria Road in Torry, North Deeside Road, Cults and Peterculter in coming weeks.
But with panic spreading among business owners and councillors complaining they learned of the Union Street and Rosemount safety measures by the public, calls have now been made for the decision-making to be handed back to members.
SNP opposition group leader Alex Nicoll said: "We need all council committees back up and running so there is scrutiny of what's being put in place.
"The administration must take responsibility for what's being implemented and listen to concerns from businesses as these are ultimately decisions that should be taken by elected members."
His Liberal Democrat counterpart Ian Yuill added: "We believe council committee meetings should have recommenced by now, held virtually online, as we called for last month.
"That would allow councillors to feed into this process and share their local knowledge.
"I'm told Rosemount councillors have not been briefed on plans for the area, which won't help things as many people's first point of contact is their councillor.
"I certainly hope when plans are developed for other communities in the city the views and knowledge of local councillors, residents and businesses can inform the process."
The pair were defeated in efforts to bring back more councillor scrutiny last month, after the three group leaders of the Conservative, Aberdeen Labour and independent administration voted to await a report on governance options.
Last night Tory co-leader of the council Douglas Lumsden accused his opponents of hypocrisy.
He said: "When this came to May's urgent business committee all five agreed to delegate power over Spaces For People to officers.
"They are now saying they don't want that, so you have to ask if they understood what they were voting for?
"We agreed officers should report back at the next meeting and that's exactly what is happening, so it's strange.
"If they had any concerns they should have raised them then or suggested an alternative."
Officers are expected to present that work to the urgent business committee on June 30.
Months into the crisis, proceedings still cannot be viewed live by the public and press.
Recordings and notes of decisions taken are shared on the local authority's website afterwards. During the meeting, officers will present more live-streaming options to members.