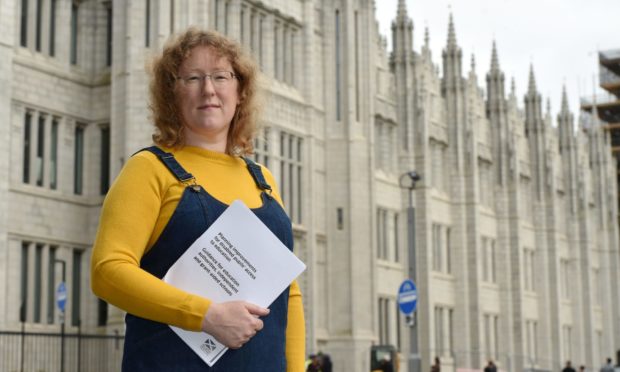 Aberdeen City Council has been accused of failing to meet its legal duty to map out how access for disabled children will be improved in its schools.
It comes after the authority's education committee unanimously passed a three-year accessibility plan at a meeting yesterday – after only six minutes of discussion.
Education convener John Wheeler said many different parties had been consulted and their views considered.
But a north-east campaign and support group for children with additional support needs (ASN) hit out at the document, claiming it is "not worth the paper it's written on".
Autism & Other Conditions Aberdeen committee member Alison Murray said it lacks specific goals and methodology for improvements.
She also claimed when she tried to submit her views on the final day of a recent 10-day consultation on the plan, she was turned away as the document had already been finalised.
Mrs Murray – who has a son with autism in primary school – wrote to members of the education committee ahead of yesterday's meeting explaining her concerns after requests to speak at it were turned down – due to there having been a consultation.
Last night she told The P&J: "They have not looked at data relating specifically to disabled children and so they can't identify the barriers faced by them.
"They haven't identified a strategy to target improvements in access to education for those children.
"Whatever this document is called it doesn't meet the council's statutory duties.
"One of my comments made 'too late' – because the report had already gone to committee before the end of the consultation – was that it was missing a section laying out what actions they intended to take and what the priorities were."
Local authorities are required by equality law to have an accessibility strategy, which should be reviewed every three years.
A report prepared for councillors ahead of the meeting revealed physical access at 25 of Aberdeen's 59 council-run schools has been graded as "poor".
But Mrs Murray said more had to be done to address access to the curriculum once youngsters were in the building, and at home, too.
Mr Wheeler said he was "aware there was a request for deputation" to the committee but that "due to the consultation exercise which took place to inform the plan, that request was not competent therefore it was not placed on the agenda".
"So while officers will consider a number of different factors we will not be discussing the content of that today," he said.
"I'm aware Mrs Murray has had significant contact with [chief education officer] Eleanor Sheppard on this very subject prior to committee."
A council spokesman added: "The accessibility plan will be routinely reviewed with an updated plan presented to committee within three years.
"The many groups consulted in the development of this plan had a range of views which we have taken into account.
"As with any consultation, we work to find the themes common from a range of individuals, groups and organisations and appreciate the range of opinions shared with us."