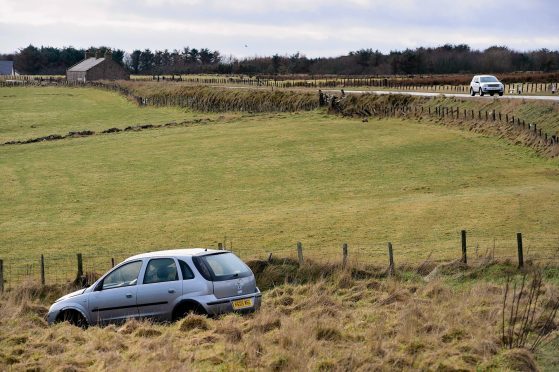 The owners of several car wrecks which litter a stretch of the A90 near Peterhead have been urged to remove them.
Three crashed cars marked with "police aware" stickers are visible from the carriageway between the Buchan coastal villages of Longhaven and Boddam.
Now the vehicles owners – none of who are understood to have suffered serious injuries in the incidents which left the cars off the road – have been asked to have their cars towed away
According to figures released by Transport Scotland last year, as many as 8,000 vehicles use the A90 Toll of Birness-Peterhead route every day.
Last night Peterhead councillor Anne Allan said: "They've been lying there a long time. It is annoying to see them after all this time.
"They should get them moved because it's coming up to the summer and we will have tourists coming to the area."
One of the vehicles – a silver Vauxhall Corsa – is just yards from Longhaven cliffs, a popular bird watching site.
Another of the cars crashed through a wire fence on the east side of the carriageway approaching the village of Longhaven.
Twisted pieces of the saloon car's bodywork are scattered along the edge of a field.
But Councillor Allan, a member of the local community safety group, said there was one positive which had come out of the wrecked vehicles being abandoned.
"It does act as a warning to other drivers about just how serious car crashes can be," she said.
Although the vehicles are marked with "police aware" stickers – which advise other drivers than an incident has been dealt with – the responsibility for moving the wreck lies with the owner.
A spokeswoman for the force said that unless a car was left in a dangerous position on the road following a collision, drivers must arrange recovery through their own insurance.
She added that the drivers could opt for the police to recover a car on their behalf, but they would be charged for the service.