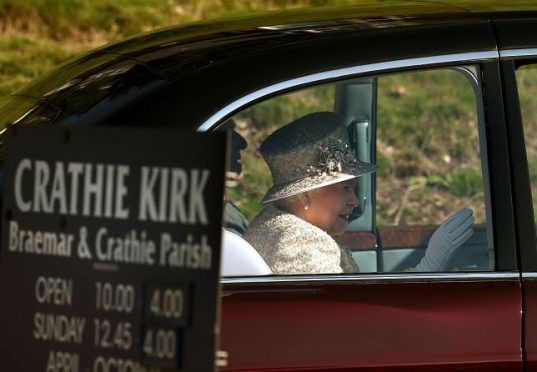 The Queen paid a visit to a rural Aberdeenshire church yesterday morning as she marked her return to her Deeside home for the summer.
The monarch has taken up residence at Balmoral Castle once again and made the trip to Crathie Kirk.
She was said to have been with her lady-in-waiting and no other family members.
The monarch celebrated her 90th birthday earlier this year and organised a function at Drapers' Hall in central London last week before departing for Deeside.
The drinks reception was believed to be a final family gathering before spending the summer months at Balmoral.
The Queen is normally among the Sunday worshippers at Crathie Kirk when she is staying at her private Aberdeenshire retreat.
The church, which has been the place of worship in Scotland for the Royal Family since 1848, is visited by thousands of tourists every year.
The Rev Kenneth Mackenzie, of the Braemar and Crathie Parish, led the service.
He said the road leading up to the kirk – often packed with people – had been quiet, as very few people were aware she was in the area.
Rev Mackenzie added: "The Queen is in Balmoral and was in the church this morning. Each Sunday is different but it is a sign, I suppose, of the summer being here when she arrives.
"We were talking essentially about prayer, the role of the church and taking stock of things happening in the world.
"It is a regular parish worship service apart from the fact we sing the national anthem at the very end."
The Royal Family make the journey to the Aberdeenshire castle every summer.
The tradition was originally established by Queen Victoria and her husband Prince Albert, who bought Balmoral in 1852 and fell in love with the surrounding countryside.
Since then, generations of royals have made the pilgrimage north.