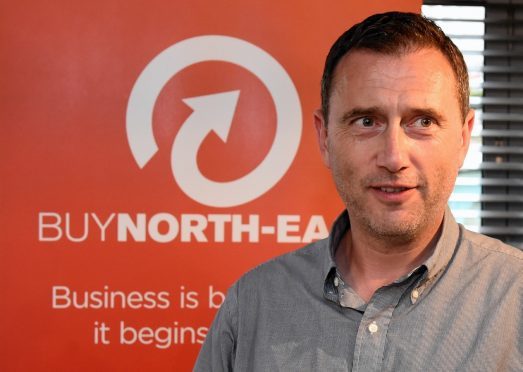 A campaign to encourage companies to spend money with local suppliers in Aberdeen and Aberdeenshire has started with a bang – with more than 110 business owners already signed-up to the Buy North East campaign.
A website is being launched today – www.buynortheast.co.uk – aimed at persuading even more people to take the pledge and support the region's economy as it battles the impact of the oil and gas downturn.
Firms which support the scheme will be added to the Buy North-East Roll of Honour.
The efforts of participating companies will also be recognised in an eight-week campaign being run across the Press and Journal and sister paper the Evening Express in print and online.
All firms need to do is pledge to support the campaign by putting "Buy North-East" on their next board agenda, and then move at least one contract or piece of business to a local supplier.
Russell Borthwick, chief executive of Aberdeen and Grampian Chamber of Commerce (AGCC), said: "We know that many millions of pounds are spent every year by organisations from Aberdeen and Aberdeenshire with companies based elsewhere in the UK or further afield, with the impact that the expenditure does not circulate in the local economy.
"At a time when many businesses and individuals are feeling the draught from the oil and gas downturn, it is more important than ever that we collectively do all we can to help the regional economy, to protect and create jobs here.
"The campaign aims to get this issue firmly on to the agenda of private, public and third sector organisations in the region, providing stimulus and practical advice to both buyers and sellers, with the result that more business is done between companies based in the city and Aberdeenshire."
The initiative is being led by AGCC, Aberdeen City Council and Aberdeenshire Council – as well as Aberdeen Journals and Scottish Enterprise.
One of the first to sign up was Findlay Leask, managing director of Aberdeen-based Caber Coffee.
He said: "Caber Coffee are rightly proud to source as much as we can from local suppliers and, of course, stock locally manufactured products such as Deeside Water and Deans Shortbread.
"I am committed to spending more money locally both as a business and an individual."
He said that buying local should be on every consumer's agenda.
He added: "While it's easy for a business to promise to make the change the real difference will come from changing the buying habits of everyone in their day-to-day lives.
"Where did you buy your morning coffee? Where did you go for lunch? Where do you buy your fresh meat? Where do you buy presents for your children?
"If your answer to any of the above was 'from a national chain or supermarket' then you can make a difference.
"If we all spend £20 more every week locally the difference to the local economy would be noticeable.
"And the best bit? You'd actually receive a much better level of service and a better quality product.
"I admire any business that signs up to the local pledge but that's just the tip of the iceberg. Without the media and businesses explaining to their customers that buying local really does help keep our money within the local area our plea might fall on deaf ears.
"If you haven't done so recently I'd urge you to make just one change.
"Buy your morning coffee from an independent coffee shop. Buy your lunch from a local deli, try the amazingly fresh products your local butcher has to offer, even just buy some of your Christmas cards or gifts from a local toy shop.
"There are so many of these amazing SMEs (small and medium-sized enterprises) out there and they're becoming forgotten as Aberdeen's retail offering slowly morphs into Generictown UK, a place where you can go to exactly the same shops you can in any other big city – how terribly dull.
"As business owners we have a responsibility to encourage our colleagues and staff to make the change and shop local. I have, and I hope you will, too."
Ann Johnson, finance director of Blaze Manufacturing Solutions, is also a member of the Buy North East Roll of Honour.
She said the company, which specialises in offshore deluge systems and services, made a conscious decision to support the local community when it expanded into a new home in Laurencekirk.
"When Blaze was looking for new premises two years ago we took a conscious decision to relocate to one of the villages in the shire," she said.
"The purpose of this decision was to not only provide employment within a commuter village but also to bring customers and trade to the local companies.
"As we have expanded it has brought more benefit to the cafes, shops and service businesses which are much needed, particularly at difficult times like these.
"As an example we chose not to have a canteen in the workplace – this has meant 30 people each day spend their money in the local shops, cafes and marvellous roadside facility which sprung up opposite our business premises with the license stipulating it was given to serve the local business park.
"As a result of our being in Laurencekirk most employees use the local garages to have their cars fixed, the hardware store has been invaluable to our warehouse and we have worked closely with our local Mearns Academy to provide business support advice, work experience placements and even an apprenticeship scheme for a local employee who otherwise would have struggled to travel to a more distant place of work.
"In addition, the majority of our supply chain is sourced either locally or within the north-east of Scotland – it makes great business sense too as meeting up with the companies is easier, shipping costs less and resolution of any issues is just so much simpler."
She added: "I chair the local business club and we have 20 small local businesses who are all struggling to keep going through these tough times as the unemployment toll on the commuter villages has been significant.
"Whilst I can't single-handedly make everyone buy local I can use my connections through business to lobby the right people who might be able to influence the economic development of Laurencekirk."
Ian Ord, business development director of marketing firm Fifth Ring, said the company has always looked to source locally, but would put more effort into finding more suppliers in the area.
Mr Ord said: "We have always supported local businesses, from printers to caterers, and this campaign gives us the drive to look even further into our supply chain to see what more we can do.
"Buying local has been at the heart of our business since our inception and we're extremely proud of the long-term relationships we've built up with other north-east companies.
"We know that more could always be done and as a result of this initiative we're working on our procurement plan to see what else we can source locally."
Zoe Ogilvie, director of PR firm the Big Partnership, said: "We have long been a supporter of using local products and services wherever possible, from using north-east firms for our office supplies right through to fostering a network of local photographers, caterers, venues and other suppliers both to meet Big's needs and those of our clients.
"We all want to live and work in a vibrant, thriving economic area and buying locally raises the overall level of economic activity, keeps the money in the region and reduces environmental impact.
"Buy North East is an excellent initiative, important not just to support Aberdeen City and Shire in the current downturn but to nurture a strong economic base for the community both now and in the future.
"We are already exploring the potential offered by more businesses in the region and are actively encouraging our clients to do the same."
Join the campaign by signing up to the Roll of Honour at www.buynortheast.co.uk.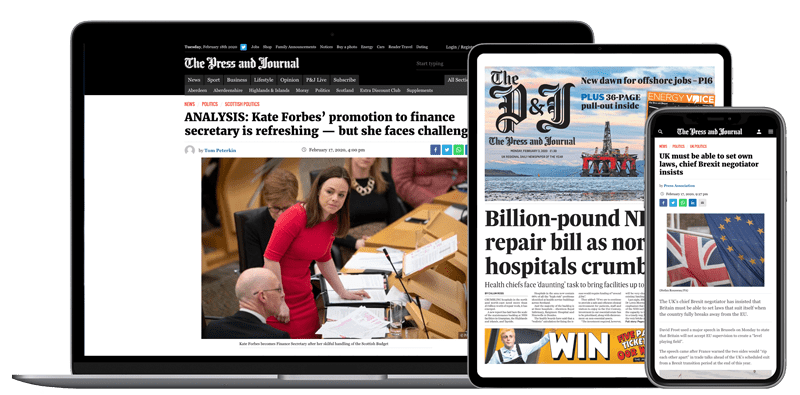 Help support quality local journalism … become a digital subscriber to The Press and Journal
For as little as £5.99 a month you can access all of our content, including Premium articles.
Subscribe