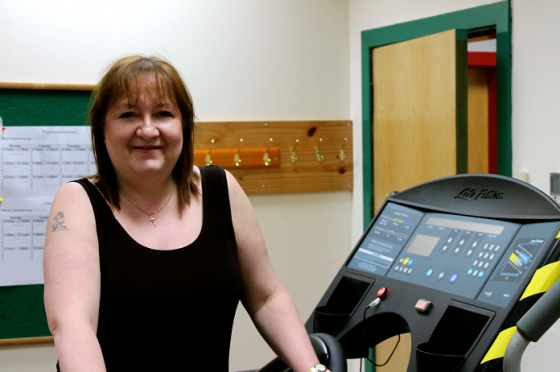 An Aberdeen woman is donning her running shoes for charity after being inspired by her blind and deaf colleagues to participate in her first 10K event.
Carol Gordon, who works at North East Sensory Services (NESS), in Aberdeen, is in training for the city's Great Aberdeen Run, which takes place in the city on Sunday, August 27.
And, despite having never run long distance before, she decided to embark on the challenge after being motivated by the upbeat philosophy and can-do attitude of her colleagues at the sensory impairment charity.
Ms Gordon, 48, who has worked at NESS for four years, is also a keen cyclist, and has often worked on the bike in the charity's gym, alongside the organisation's chief executive Graham Findlay as he was running.
However, the enthusiasm within the office for the Great Aberdeen Run rubbed off on her, and she willingly signed up for the new event.
As a welfare adviser/resource centre worker for NESS, she is keen to help raise money for the charity, which supports over 6,000 blind and deaf people in the north-east.
A Level 2 British Sign Language speaker, Ms Gordon works closely with deaf service users, and her fundraising efforts will help support social activities and support groups for service users across the region.
NESS has a team of six staff members taking part, including Neil Skene, who is blind, and Leona Glennie, who is deafblind. The duo, who run with guide-runners, are taking part in the half-marathon, having previously participated in numerous races, including a series of half marathons and marathons.
Ms Gordon said: "Having worked with blind and deaf people for nearly five years now, I felt it was time to give something back.
"My colleagues have climbed Kilimanjaro, jumped out of aeroplanes and taken part in numerous runs, and I have been inspired by their bravery.
"I have always been pretty active, so the Great Aberdeen Run coming to our city is the perfect chance to get back to running."
Mr Findlay added: "NESS staff and volunteers are very active in their support. Our blind and deaf colleagues are keen to achieve new goals, and their co-workers are more than happy to go along and be guide-runners.
"We are delighted Carol is joining our growing team of runners here at NESS, and I am sure they will all enjoy this important event for Aberdeen in August.
"Fundraising is vital to the work of NESS, as it enables us to provide social and educational activities for deaf and blind people in the community, without which many would feel isolated."
If you would like to join Carol and the NESS team, or run in aid of NESS, contact fundraising@nesensoryservices.org or call Neil Skene on 01224 793954.