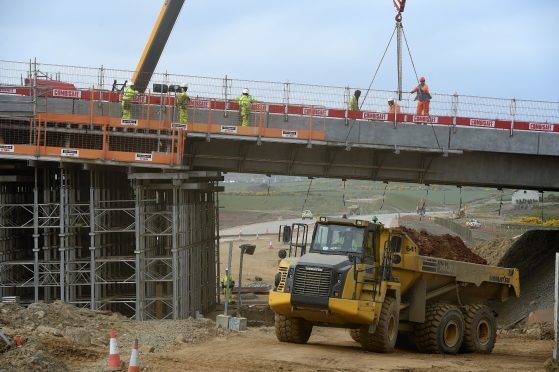 A worker on the Aberdeen bypass was taken to hospital with head injuries after a falling piece of timber cracked his hard hat apart and knocked him unconscious.
The latest in what has been a string of accidents to plague the AWPR project took place just south of the River Dee crossing yesterday afternoon.
It is understood the man had raised concerns about the "unsteady" nature of the plank immediately before it came crashing down on his head.
Witnesses said the force of the blow smashed apart his protective helmet, leaving him unconscious and with a "deep" laceration.
The man regained consciousness at the scene, but was taken to Aberdeen Royal Infirmary by ambulance to be checked over.
Transport Scotland last night responded contractors were probing the circumstances and would use the findings to enhance site safety.
A spokeswoman said: "The project contractor, Aberdeen Roads Limited, has confirmed that an incident took place on its site earlier today resulting in one of its operatives being taken to hospital.
"The contractor is now undertaking an investigation in to the cause of the incident and will implement any lessons learned throughout the site.
"Transport Scotland will continue to work with Aberdeen Roads Limited to enhance the health and safety of the local community and the workforce."
But an AWPR source claimed that unrealistic deadlines were putting workers at an ever-increasing risk of harm.
He said: "They are ramping up the pressure to get it done, it seems to be all about getting work finished faster.
"The feeling on the site is not one of surprise that this has happened."
The Press and Journal revealed earlier this year that an average of one worker a week had been injured on the £745million project.
In March, a worker at the Milltimber stretch of the site was left with cracked ribs, a liver tear and dislocated toes after being crushed by a half-tonne pipe.
Less than a fortnight ago, it was announced that health and safety efforts were being beefed up, with the contractors employing additional supervisors.