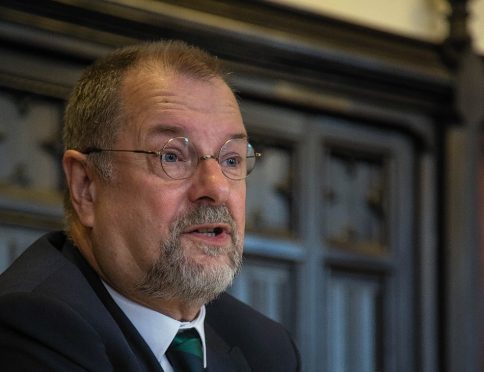 Dangerous weapons have been seized from Aberdeen school pupils at the rate of two per month, shock new figures have revealed.
Knives, a BB gun and even a ninja throwing star were among the haul taken in the city in 12 months to September – two years on from the tragic stabbing of schoolboy Bailey Gwynne.
A total of 24 were seized – 16 in primaries and eight in academies. But a national anti-knife charity said that while the latest stats were "worrying" they showed an "encouraging trend" as there had been markedly fewer seizures in the past six months.
From April to September, just three weapons were taken in primaries and none in the city's secondary schools. On October 28, 2015, fifth-year Bailey died from a single stab wound through the heart by Cults Academy classmate Daniel Stroud in a row over a biscuit.
In the wake of the tragedy, a review was conducted by child protection expert Andrew Lowe who found Bailey's death might have been avoided if those who knew Stroud carried weapons had reported it to staff.
Announcing his findings in October last year, Mr Lowe made 21 recommendations, including calling on the Scottish Government to consider changing the law to give teachers more power to search pupils.
Ministers have so far refused to take that step.
Aberdeen South MP Ross Thomson seized on the figures as evidence they should re-examine the case. He said: "We know from the tragic events at Cults Academy just how devastating the consequences can be when pupils carry knives to school."
Patrick Green, manager of knife crime charity the Ben Kinsella Trust, said: "Parents will, of course, be rightly worried by these figures. However, it is worth noting that the number of offensive weapons found in both primary and secondary schools has started to fall since April."
An Aberdeen City Council spokesman said: "We would like to reassure parents and pupils that we will continue to be vigilant and act accordingly in ensuring that our schools are safe environments."
A Scottish Government spokeswoman said they had found little support for teachers being given search powers. She said: "We consulted expert stakeholders, including Police Scotland, teaching unions and leaders, National Parent Forum of Scotland and Medics Against Violence, on the issue of knife crime in schools, and there was no support from any of them for a new search power to be given to teachers in Scotland. We continue to support the work of schools and the wider community to tackle knife crime." Comment, Page 25