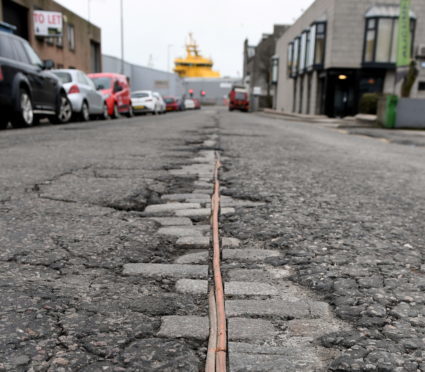 A pothole-plagued Aberdeen street must be fixed "as soon as possible", councillors have said, after recent bad weather exposed historic cobbles and cabling.
Commerce Street has long been used by heavy lorries and other vehicles travelling to and from the harbour to transport goods.
But the section nearest the port is now so damaged it has been described as "a hazard" by some elected members who believe money must be found for repairs.
The weather front that became known as the "Beast from the East" caused potholes to develop across the city as water froze and expanded beneath road surfaces.
That has been bad news for cash-strapped council chiefs.
In March it was revealed Aberdeen spends more than four times the Scottish average on maintaining the condition of its roads – £43,869 per kilometre against a Scottish average of £10,456.
Despite the investment, opposition councillors have suggested the money is not being targeted correctly.
George Street and Harbour SNP councillor Dell Henrickson said the damage to Commerce Street had become a "hazard" and questioned whether it was down to negligence.
He said: "I'm surprised at how bad the potholes are on Commerce Street.
"This won't be the result of just a bad spell of winter as it takes a long time for potholes to get this bad.
"I'm hoping that this can be fixed as soon as possible because right now it's a hazard for cars and bikes."
A council spokesman said the cabling visible in Commerce Street did not pose a danger to the public.
Engineers have nonetheless been deployed to look at it.
"The junction at Commerce Street and Virginia Street was refurbished in early 2010 and a loop cable recut along the channel to improve access and reduce disruption during maintenance visits," he said.
"This would appear to be a redundant cable but nevertheless we will have engineers check the site asap.
"We can confirm, however, that the cables do not carry any electrical voltage as the loops detect the presence of vehicles using magnetic inductance. "
Council transport spokesman Ross Grant added: "Aberdeen City Council this year agreed to an additional £10 million from our budget to be invested in roads and pavement maintenance and making the necessary improvements to our infrastructure is a key priority for the administration.
"I hope that the local member has taken the necessary steps to raise this particular issue with officers directly."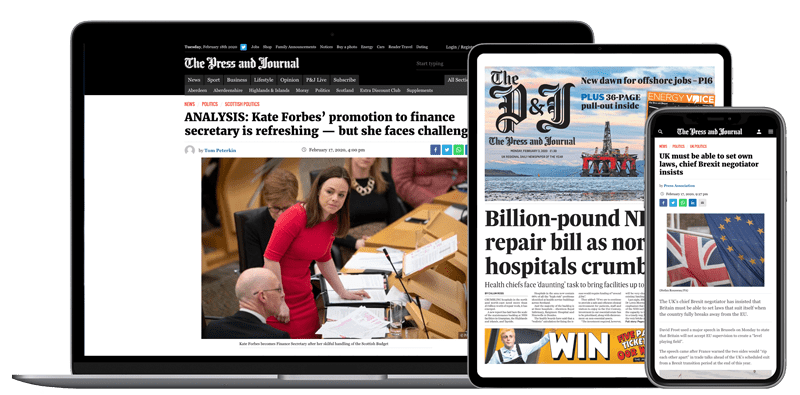 Help support quality local journalism … become a digital subscriber to The Press and Journal
For as little as £5.99 a month you can access all of our content, including Premium articles.
Subscribe