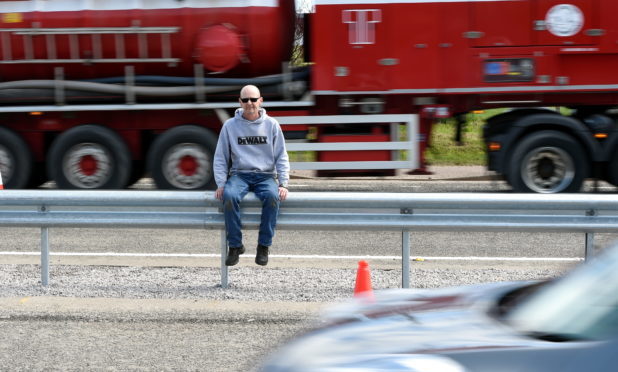 An angry family claims transport chiefs are forcing disabled people and pensioners to walk a mile detour to catch a bus safely on a north-east road.
A new crash barrier has been installed on the stretch of the A90 Aberdeen to Fraserburgh road that runs between the Murcar roundabout and Blackdog.
The safety measure was put in place as part of the ongoing Aberdeen bypass works but now one family has claimed they have to either climb over the barrier, or walk a mile round trip, to access a bus stop on the opposite side of the road.
The Addison family live at Harehill, in the Bridge of Don, and regularly use the Stagecoach services to and from the city centre.
Dad Stuart, who is recovering from pancreatitis, says the barrier has made the already dangerous crossing even more so for son Ian, 21, who has learning disabilities.
He said: "It's not just for us, there's older people with walking sticks that live in the caravan park with walking sticks and disabilities, they're expecting us to walk half a mile down the road and half a mile back on the other side.
"It's also gravel underfoot so if you have to push a buggy or you have difficulty walking it's a complete nightmare.
"My son has got learning disabilities, he struggles to cross the road at the best of times and now there's this. I have to walk down to the dual carriageway with him to make sure he gets across all right because he has trouble judging how much time he has.
"We use the bus services all the time, everything from doctors appointments to going to the shops. The AWPR people say there's nothing they can do."
Transport Scotland said that it was now exploring a way to resolve the issue caused by the barrier.
A spokesman said: "Options are being considered together with the contractor, Aberdeen Roads Limited, which may be available to maintain pedestrian access at this location."