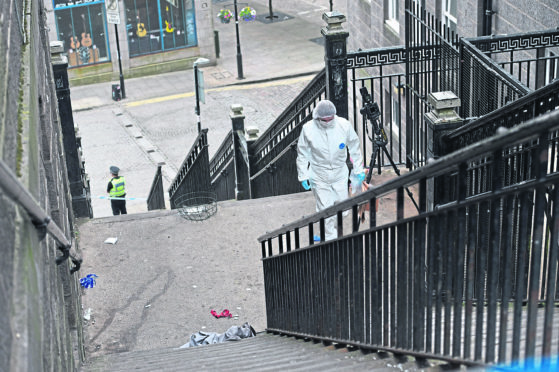 A police probe is under way after a young man was found seriously injured in Aberdeen city centre yesterday.
The casualty, aged 25, is believed to have fallen down steps leading from Union Street to The Green and suffered a serious head injury as a result.
Police have not ruled out foul play and are carrying out inquiries to establish what led to his injuries.
In the wake of the early morning incident – at around 2.30am – the steps were cordoned-off to allow for a forensic examination of the area.
An ambulance and a paramedic response vehicle were also despatched and the man was subsequently taken to hospital.
The stairs remained closed for much of Tuesday, restricting pedestrian access to the harbour area and Union Street.
Ivor Smith works at Kenny's music store which sits opposite the foot of the stairs.
He said businesses in The Green had been affected by the closure, adding that the stairs were known to be hazardous.
"The stairs are in a state," Mr Smith said.
"I've seen a number of people trip or fall down them."
Residents say the steep stairs present additional problems at night, when there is limited lighting.
They have suggested that fluorescent paint along the handrails might help prevent injuries.
The steps are less than five minutes from Aberdeen Indoor market, where safety concerns were raised last week after a pensioner was found dead.
Frank Finnie's body was discovered there on Saturday, two days after he fell through a fire exit into an unused part of the property.
George Street/Harbour councillor Michael Hutchison described yesterday's incident as a "tragedy."
He said: "I'm still unsure on whether it was a simple fall or not, but it really is a tragedy.
"I'm currently finding out how often the stairs are maintained and what steps we can take to make sure this doesn't happen again.
I advise to be careful on the steps as this could happen to anyone."
A police spokesman said: "A man suffered a serious head injury and has been taken to Aberdeen Royal Infirmary.
"We are carrying out inquiries to establish the circumstances which led to this man being found injured yesterday morning."