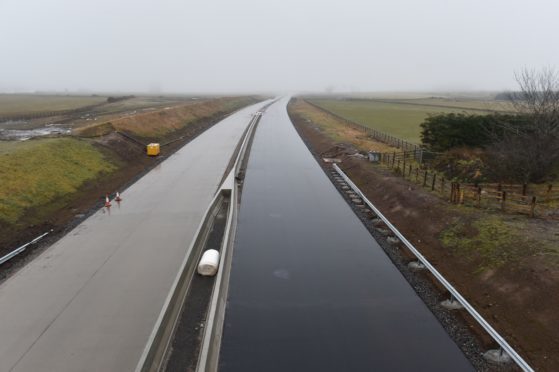 The quick completion of the Aberdeen Western Peripheral Road works means a new stretch will open soon.
A temporary road order published today has set the stage for the opening of the 7.5-mile Balmedie to Tipperty section in the coming weeks.
The order allows the contractor, Aberdeen Roads Limited (ARL), to apply a reduced speed limit to the slip roads associated with the new junctions at Balmedie, Newburgh and Tipperty will enable it to undertake final preparation works in advance of this section being fully open to traffic.
This section of road represents around one-fifth of the entire AWPR project and includes 6 miles of new dual carriageway between Balmedie and Bridgend, as well as 1.5 miles of improvements to the existing dual carriageway between Balmedie and Blackdog.
Coming hot on the heels of the opening of the 4-mile Parkhill to Blackdog section last month, this improved link between Balmedie and Tipperty will improve safety and journey time reliability, and provide better access to local areas and the wider public road network.
Douglas Laird, Transport Scotland AWPR/B-T project manager said: "We said we would work with ARL to open new sections of road to bring the benefits of the project to people as soon as possible and practicable.
"Today's publication is a significant step towards opening the upgraded section of A90 between Balmedie and Tipperty."
He added: "While we will only know the exact date when final works and safety inspections are fully complete, this milestone allows the contractor to start the necessary finishing works and certainly signals we're in the home stretch.
"As always, we thank local communities, road users and businesses from across the north east for their patience during these works."