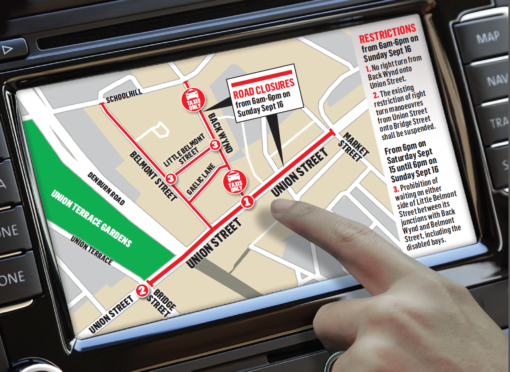 Severe traffic restrictions will be in place across several city centre streets this weekend as council chiefs aim to encourage residents to leave their cars at home.
From 6am to 6pm on Sunday, Union Street, Aberdeen, between its junctions with Bridge Street and Market Street, Belmont Street, Little Belmont Street, Gaelic Lane and Backwynd, will be closed to both buses and cars for the annual In Town Without My Car Day.
And, from 6pm on Saturday until 6pm on Sunday, there will be a prohibition of waiting on either side of Little Belmont Street between its junctions with Backwynd and Belmont Street, including the disabled bays.
A number of events and attractions have been included as part of the celebration.
There will be a number of stalls, inflatable obstacles, a bungee run, face painting and even a giant zipwire called Skyfall which will take those brave enough down Union Street.
As part of the local authority's 25-year city centre masterplan, it is envisaged that many city centre streets, including Union Street, will be eventually pedestrianised.
The council is also investigating potential "low emission zones" around the city to reduce pollution.
Motorists would be penalised for driving into Scotland's cities unless their vehicles have the cleanest engines, while other vehicles would be banned – with penalty levels expected to be more than £20 a day.
Last January, a Friends of the Earth report revealed Aberdeen's Union Street, Wellington Road and King Street all rank among the most polluted in Scotland.
But drivers' groups have previously raised concerns about the scheme, which is likely to cost up to £20million, and maintained that motorists must have access.
A council spokeswoman said: "The event is one of several being held in Aberdeen as part of European Mobility week, an EU-funded initiative which has sought to promote alternatives to private car use in cities.
"That's as well as improving health and quality of life for everyone by exploring solutions to urban challenges, such as air pollution since 2002.
"This year's theme is "multimodality" and is encouraging us to explore the many different options available for getting from A to B, and to think about the mode that best suits our particular journey."