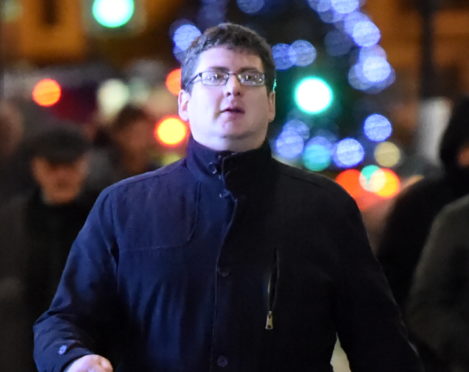 A man who was found guilty of threatening and abusive behaviour outside the office of an Aberdeen MP has been ordered to stay away from for his office for two years and warned not to let his political views let him "overstep the mark."
Callum Purdie, whose social media accounts document his support for the SNP and independence, went on trial at Aberdeen Sheriff Court last month accused of causing a disturbance at the office of Ross Thomson on Holburn Street.
The court heard from office manager Katie Frank who said she saw Purdie on the office camera who she recognised from social media and was someone who had rang the office before to discuss issues such as Brexit.
She said she instructed others not to open the door and Purdie knocked on the window in a "belligerent" manner and remained outside for 20 minutes before leaving.
She also said he struck again four days later when she was alone in the office.
Man found guilty of causing disturbance outside the office of Aberdeen South MP
During the trial Purdie's defence lawyer Iain Mcgregor argued that his client was not guilty as there had been "nothing verbal" and there were "no threats made" but Sheriff Philip Mann found him guilty.
Purdie, of School Road in Stonehaven, returned to court today to be sentenced.
Prosecutors requested a non-harassment order preventing him going near the office again.
Fiscal depute Anna Chisholm argued yesterday this should include Mr Thomson as he was clearly the "intended victim" of Purdie even if he was not present when he struck on June 7 and June 11.
But Sheriff Mann rejected this as Mr Thomson was not the actual victim.
Instead he ordered him to stay away from four staff members for two years – including at their place of work.
Mr Mcgregor said his client was a first time offender and asked for sentenced to be deferred for him to show he could be of good behaviour and comply with the non harassment order.
Sheriff Mann declined this request.
He said: "I think the motivation is a political motivation and you trying to pin
Mr Thomson down for expressing a different political view.
"I think in doing that you were entirely misguided.
"In doing so you allowed yourself to overstep the mark."
He fined Purdie £550.