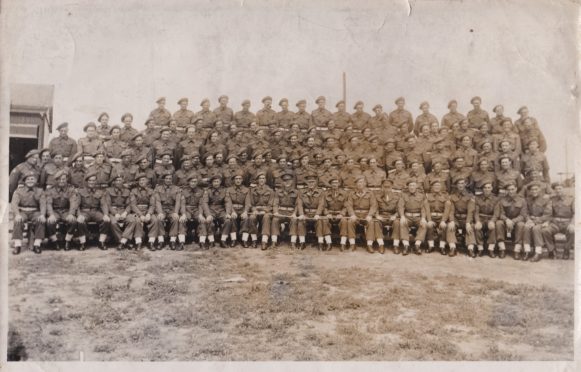 It was a chance encounter in the dying days of the Second World War that led to the capture of one of the highest-ranking and most infamous members of the Nazi regime.
Five men from the 196 battery, 73rd anti-tank regiment, Royal Artillery, were on a routine patrol in north-west Germany in May 1945 they stopped three Germans to check their identity papers.
They proved to be false and it soon emerged that one of three was one of the world's most wanted men, Heinrich Himmler.
The high ranking Nazi led the notoriously brutal SS and is considered an architect of the Holocaust, which saw millions of Jews  killed in extermination camps across Europe.
---
>> Keep up to date with the latest news with The P&J newsletter
---
Now a historian has revealed one of the five men who captured Himmler may have been an Aberdonian.
Chris Mannion, from Warrington in Cheshire, discovered around seven years ago his own grandfather Lance Sergeant Patrick Mannion was one of those involved in bringing the war criminal to justice.
He is now penning a book on the capture and has found a record of a Gunner P. Murison, whose address was listed as 16 Seaton Drive, Aberdeen, and who was in the regiment at the same time as his grandfather.
He is trying to trace all the men in the picture to find out exactly who was involved in the capture of the SS chief.
Mr Mannion said: "They landed on D-Day then fought through France, Belgium and Holland and then on into Germany.
"Just after the war finished, the 73rd was based in north-west Germany and a five man patrol had been sent out to help keep law and order.
"They came across three Germans whose ID papers did not seem correct.
"It turned out one of these men was Heinrich Himmler, though as he was using false ID papers the men themselves didn't know his true identity.
"Years later, this story was passed down to me, though sadly not by my grandfather who died before I was born.
"I'm trying trace all the men, or relatives of the men of the 196 Battery.
"One of them is Gunner J. Murison, service number 2884328, whose address at the time was 16 Seaton Drive, Aberdeen.
"So, what did Murison have to do with it all? I have no idea.
"I have the main documents telling me who where, when, but as a man of the 196 he may have had dealings with Himmler, even driven the truck with Himmler in the back, who knows."
The SS leader was one of the leading figures in the Nazi regime and was responsible for the network of death camps where millions died in the Holocaust.
His Einsatzgruppen death squads slaughtered civilians across the continent – in some cases entire villages and towns.
Shortly after his capture, Himmler took his own life by cyanide pill before he could be brought before a war crimes trial.
Anyone with any information should e-mail Mr Mannion antitank73@hotmail.com.
Who was Himmler?
As one of the most powerful men in Nazi Germany and the head of Hitler's SS, Heinrich Himmler set up and oversaw Hitler's concentration camps securing his place in history as one of its evillest men.
Head of the Gestapo, Himmler joined the Nazi party in 1923 and in 1929 was appointed as the man in charge of the infamous SS. Where he transformed the mere 290-man battalion into a paramilitary force of a million strong.
Himmler directed the killing of some six million Jews, the total number of civilians killed by the regime number between 11 million to 14 million.
By the late 1930s, Himmler had grown in power to a point where he only answered to Hitler himself.
Realising the war was lost and his part as a failed commander in the closing days of the war, Hitler demanded his capture and Himmler left his long-time superior in Berlin to try and save himself.
Rejected by his former comrades and hunted by the Allies, with a small band of companions and without a final destination in mind, he was eventually captured by British forces.
After a routine interrogation he revealed his true identity, but as a doctor attempted to examine him, Himmler jerked away and bit down on a cyanide capsule.
He was dead within 15 minutes. He was buried in an unmarked grave, the location of which remains unknown.