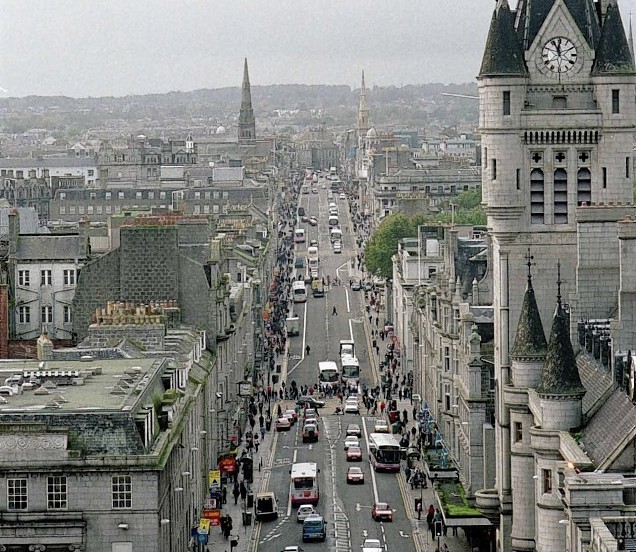 Aberdeen City Council was under fire last night over its "baffling" failure to ask for cash to prepare for the looming launch of a major anti-pollution scheme.
Glasgow became the first Scottish city to introduce a "low emission zone (LEZ)" this month, and is due to be followed by Edinburgh, Dundee and Aberdeen next year.
But new figures have revealed that the Granite City is the only one of the four which has not received any Scottish Government funding to help with the preparations.
Scottish Government data shows that Glasgow has been handed £266,800, Edinburgh has been given £111,800 and Dundee has received £140,000.
Concerns raised over timetable for Aberdeen's new "low emissions zone"
No money has gone to Aberdeen to date, however, because the city council has "not yet bid for support".
Each of the four local authorities is due to design their own LEZ, but they are all expected to restrict high-polluting vehicles from city centres, enforced using automatic number plate recognition (ANPR) cameras and penalty notices.
Glasgow's LEZ has just been launched, with the first phase setting European emission standards which must be met by 20% of buses which pass through the city centre.
A second phase, due to be implemented in December 2022, will apply to all vehicles entering the zone.
---
>> Keep up to date with the latest news with The P&J newsletter
---
Last night, Aberdeen Greens co-convener Guy Ingerson said: "It is baffling that a bid hasn't been prepared or made for funding this important initiative.
"The administration has been in place for nearly two years. The evidence to support LEZs has been around for a great deal longer, with places like Wellington Road often highlighted as a pollution hot spot.
"It's time for them to get a move, get a bid in and finally start tackling this environmental and public health problem."
Aberdeen may not need low emission zones- if it hits hydrogen targets in two years
However, an Aberdeen City Council spokeswoman said: "Since 2017, Aberdeen City Council has been working with SEPA, which has been commissioned by Transport Scotland to assist local authorities build evidence for the need for a low emission zone (LEZ).
"In late December 2018 the preliminary results were available from SEPA and work is now ongoing to examine different options for a possible LEZ.
"It is expected that once this work with SEPA is complete, the council will be in a position to seek to maximise any funding options available."
A Transport Scotland spokesman said: "Aberdeen City Council has not yet bid for support to deliver low emission zones, however, we are working with them to identify funding requirements to support the delivery of a LEZ.
"We have already made available over £10 million in 2018 to support local authorities and bus operators with the financial costs of establishing LEZs, and we will continue to provide support in order to protect public health.
"We are committed to protecting the public from the effects of poor air quality and LEZs will improve the quality of the air in our towns and cities by allowing access to only the cleanest vehicles.
"By tackling this pressing issue, we will make our city centres even better places to live, work and visit."