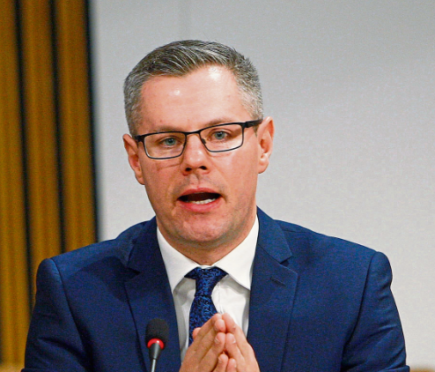 Finance Secretary Derek Mackay has refused Aberdeen City Council's request to retain millions of pounds in business rates.
The leaders of the ruling Conservative, Aberdeen Labour and independent councillors sent a joint letter to Mr Mackay earlier this month, asking for Aberdeen to be allowed to keep the extra £28million in rates the council predicts it will generate over the collection target for 2018-19, set by the Scottish Government, of £227.8million.
The council's leadership had argued that the cash should remain in the north-east instead of "diverting the money to the central belt" – however, opposition councillors in the SNP argued the move would "effectively be the devolution of business rates" and cause major risks for the local authority.
But despite the combined efforts of the ruling administration, Mr Mackay has written back, denying their request.
Mr Mackay said: "As you know, the Scottish Government guarantees each council's formula share of revenue support grand plus non-domestic rates income, but the Scottish Government also carries the full, 100% risk and must provide additional grant in the event the income from non-domestic rates turns out to be lower than expected.
"Given the risk and the additional financial support already provided by the Scottish Government to local government and businesses in 2019-20, it will not be possible to agree to the council's request for an extra £28million over and above its formula share."
Douglas Lumsden, the Tory co-leader of the city council, added: "This comes as a slap in the face to the people of Aberdeen.
"Once again, the city's business community has raised millions more, only for this to be diverted to the central government where it should be reinvested in the growth and prosperity of Aberdeen."
A Scottish Government spokesman said: "We continue to ensure that our partners in local government receive a fair funding settlement despite further cuts to the Scottish Budget from the UK Government.
"We are delivering a funding package of £11.1billion for local authorities next year – a real terms increase of over £210 million for essential public services in Scotland.
"Aberdeen City Council will receive £372.6million to fund local services in 2019-20. Using their council tax powers could generate an additional £3.7million to support the delivery of essential local services, meaning an extra £15.9million or 4.4% next year."