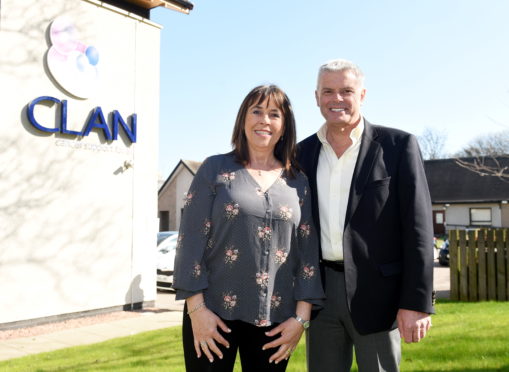 A Dons boss has donated £100,000 to a north-east charity after witnessing the "significant difference" it makes to people living with cancer.
Aberdeen FC vice-chairman Dave Cormack felt compelled to donate to Clan Cancer Support after visiting the centre last year with his wife, Fiona, and seeing first-hand what the team do to support cancer sufferers and their families.
Entrepreneur Mr Cormack and his wife made the trip from Atlanta, where he heads up Curve Dental Software, to hand over the cheque to the charity at their headquarters on Westburn Road.
The money was presented through the Cormack Family Foundation, set up in 2001 to support charities across Scotland, the Americans and Africa.
The couple first visited Clan House during a trip to Aberdeen last year, and having been "so impressed" by the charity's work, decided to do what they could to support the organisation.
During yesterday's visit, they spent time speaking with clients, volunteers, practitioners and staff, including people who are currently staying in Clan's bed and breakfast facility, while attending Aberdeen Royal Infirmary for treatment.
Mr Cormack said: "It is a great privilege for Fiona and I to be able to present Clan with £100,000 to support the charity's invaluable work.
"We were so impressed by Clan's approach to addressing the challenges faced by those living with a cancer diagnosis in Aberdeen and in remote and rural communities in the north-east and further afield.
"I grew up in Garthdee and Fiona grew up in Kincorth – we've been blessed and we think it's incumbent on us to help others.
"When you talk to those here who have been affected by cancer and their loved ones, it feels good to give back.
"The practical support and information provided within communities through Clan's network of centres makes a huge difference when an individual, carer or family network is faced with a cancer diagnosis.
"Sadly, many of us understand the effect a cancer diagnosis can have, and Fiona and I were delighted to spend some time hearing how Clan's support makes such a significant difference to people 365 days a year."
The charity, which supports people across Grampian and the islands, relies on £2.5 million in annual donations each year to deliver its services.
Chief executive Colette Backwell said: "With the number of cancer diagnoses predicted to rise year on year, the generosity of philanthropists such as Dave and Fiona is crucial to ensure that Clan will be here for future generations, providing cancer support services.
"On behalf of everyone at Clan I would personally like to thank Dave and Fiona for their support through their foundation, and I look forward to working together with the team to ensure the funding has the greatest impact for our clients."