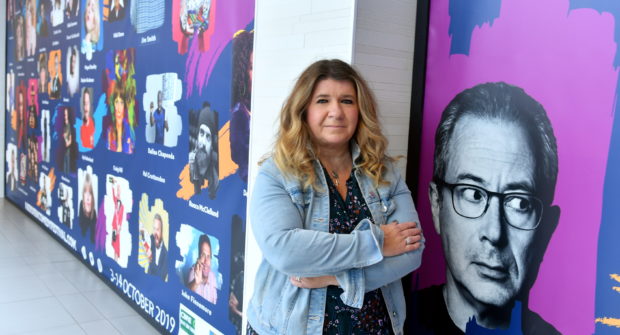 The woman behind next month's Aberdeen International Comedy Festival says the impact it will have on city centre business is no laughing matter.
Over 10 days from October 3, scores of comedians from the UK and overseas will take to almost 20 different stages to share their work with eager crowds.
More than 8,000 tickets have already been sold – 20% more than the overall total for 2018 – before this year's events have even begun.
The celebration of comedy has been staged annually since 2016 and festival manager Shona Byrne says it has been going "from strength to strength", with an impact much wider than people may realise.
"It's really positioned the city as a place to come for comedy, which is what we have been trying to do," she said.
"But this is the first year where I can say that we are where we want to be in terms of its programme.
"We've got a lot of new acts coming straight from the Edinburgh Festival Fringe to start their tour, so Aberdeen is getting to see a lot of the up-and-comers as well as the headline names."
Paul Sinha and Janey Godley among line-up for Aberdeen comedy festival
While the festival will directly benefit the 19 venues hosting events, its financial effect is expected to be far further reaching – not just next month, but in the years that follow.
Mrs Byrne, who works for the business improvement district Aberdeen Inspired, said: "The festival can't take place without our hotels, bars and restaurants.
"The hotels benefit from people choosing Aberdeen as a place to come for the weekend or a short break – and this year it ties in with the October holidays.
"It makes Aberdeen a destination to come to because there are so many smaller shows as well as the massive headline acts.
"If you bring thousands of people into the city for comedy, they're also going to experience the retail and the bars and restaurants.
"It's going to be great for business all-round."
But while the city's hospitality industry will directly benefit from the festival, Mrs Byrne says the relationship is, in fact, quite reciprocal.
"The venues have been really supportive.
"The comedians themselves will remember Aberdeen as one of their first festivals and they'll hopefully have a fondness for the city and how they've been treated.
"Then, hopefully in the years after, they'll say 'Aberdeen gave me my break' and come back to support it."
The fact that the festival has a condensed, 10-day programme – rather than one where events are held sporadically throughout the year – has also been credited with giving the city centre a boost.
Mrs Byrne said: "For festivals to work you need a concentrated period of time with a lot packed in, so people think 'I just have to see this'.
"About 30% of people buy tickets for more than one show and we have been trying to encourage even more of that.
"When people are leaving, for example, a 6pm show, on their way out they might be encouraged to try another starting somewhere else soon after.
"It is important for a festival to have the big names and the headline acts, but I'm so confident that all of the smaller shows we have are top-class and everyone will get out and support them.
"There are some really great acts that people won't want to miss and I think they will all be big names in a few years' time."
Warm welcome for acts crucial to growing Aberdeen comedy festival further
Aberdeen's hospitality industry could prove vital in helping the comedy festival continue to grow.
Doug Taylor, who has been working with Shona Byrne to book this year's comedians, says it is crucial the city can offer acts a reason to make a return visit.
"There's a real ambition for the festival to grow and bring acts to Aberdeen that, outwith a festival, wouldn't normally venture up to this neck of the woods," he said.
"When I started 20 years ago there was very little coming to Aberdeen, but it's really developed into a go-to city for national tours.
"Despite that, for many we are still geographically remote, so for the guys coming up for a one-off performance, the festival makes it easier as there's a lot more to make the journey worthwhile."
"Once here, they'll find Aberdeen audiences are terrific and the logistics around the festival are really well developed.
"For the artists, everything is in place. They can stay in nice hotels and they will feel looked after.
"And they're not just coming up and doing their own thing. They can see the billboards and they're all over social media, so they feel part of a larger event."
Mr Taylor thinks first impressions are key if they want the city to have a lasting impact on visitors.
He added: "That's how it starts – you build a relationship with artists and it's about them having a good experience of coming to Aberdeen, whether it's their first time or not.
"If they're coming to the festival and having a good time, I think it fosters a good working relationship going forward.
"It's nice to have people play in smaller venues and then return to the city a bigger and bigger act over the years.
"That's a very nice thing to be part of."
While the chance to see a big name from the world of comedy is often the main motivator for audiences, Mr Taylor says variety is key for creating a true festival atmosphere.
"This year it's looking particularly exciting," he said.
"They are bringing a lot of quality right into the heart of the city. It's a real step in the right direction.
"It's important we try to cater to everyone. The festival is quite concentrated, as it's 10 days, so you want to pack as much stuff as you can with the broadest appeal.
"You're going from one extreme to the other. For example Daniel Sloss has filled up the Music Hall, packing it to the rafters, while there's lots of smaller, more niche stuff which might appeal more to the comedy purists."
But the wide mix of entertainment is a move Mr Taylor expects to pay off, and added: "I think people are more minded to take a chance when it's part of a festival.
"For some of the smaller things we keep the ticket prices reasonable as people may not even know it is happening.
"Without the festival they might just come into the city without anyone noticing – but with this, hopefully they will and it means people could find a new favourite comedian."