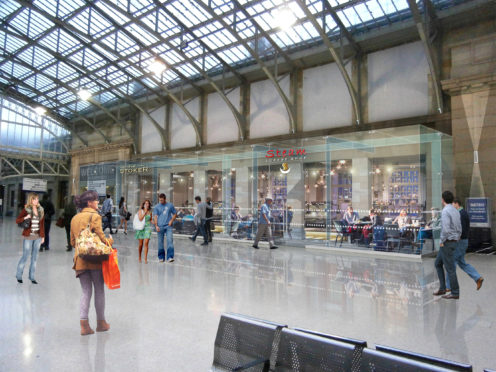 Work will begin this year on an £8 million transformation of Aberdeen Railway Station.
First mooted three years ago, the project will bring about significant changes to the look of the station which has sat in the heart of the city for more than 150 years.
The quality and variety of its shops and eateries will be "significantly enhanced" once complete, bosses say, with glass-fronted restaurants in the concourse being more in keeping with the neighbouring Union Square shopping centre.
ScotRail said the overhaul comes at an "exciting time" for the north-east, with the arrival of a new fleet trains with extra seats and a more frequent timetable also on the horizon.
Improvements will be performed on the ticket office, first class lounge, and taxi rank and bicycle storage areas.
And the station entrance will be upgraded, better connecting the building to Union Square and the wider city centre.
Works to enhance the listed station building will be embarked on in partnership with the Railway Heritage Trust.
Contractors from Morrison Construction will begin work on the site when it is safe to do so, following the coronavirus pandemic.
ScotRail head of projects Kirsty Devlin said: "The redevelopment of Aberdeen station will see significant enhancements in retail, improved access to the station, a new ticket office, and new first-class lounge.
"The investment we are making in the north-east – in the redevelopment of Aberdeen station, the Aberdeen to Inverness improvement programme, and in Inter7City trains connecting Scotland's seven cities – means it's an exciting time for this part of the country."
Transport Scotland's director of rail Bill Reeve said: "While our immediate focus is on tackling the Covid-19 outbreak, the development work for this £8 million investment can be undertaken safely now, so that we will be ready to deliver the enhanced facilities for customers and railway staff without delay when it is safe to do so.
"We know the more we make rail an attractive, safe and secure transport choice, the more people will consider using the train as an alternative to the car.
"I look forward to seeing further progress as soon as conditions allow."
The project will be completed in stages, with work on the station redevelopment expected to take around one year to complete.
Work to replace the glass roof was completed by Network Rail Scotland last year.