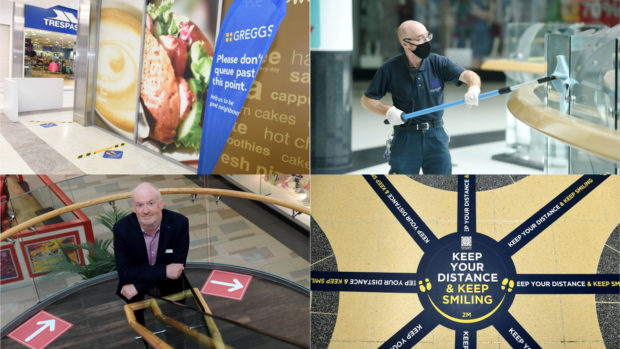 Shopping centres will once again be a hive of activity today when they open their doors to the public after near four months of lockdown.
On March 24, Scottish shopping centres shut-up-shop due to safety concerns over the spread of coronavirus, with an uncertainty of when they would open again hanging over them.
Large numbers of footfall are now expected as customers make their way back to their favourite retailers following an ease in lockdown measures.
First Minister Nicola Sturgeon announced that non-essential shops with outdoor entrances could reopen on June 29 with indoor centres opening two weeks later.
However, the shopping experience is not what it once was with new measures introduced including wearing face coverings, socially distanced queues and one-way systems.
---
The new measures
Aberdeen's Union Square has undergone a full transformation in order to keep retail staff and customers safe in accordance with Scottish Government guidelines.
General manager Ryan Manson said he is "looking forward to welcoming everyone back to the shopping centre".
"We have been working hard to ensure shoppers can enjoy their time here and measures have been put in place to support social distancing.
"Across the mall there are hand sanitiser stations, a keep left policy and entry points through certain doors only.
"Some of the public toilets conveniences will be separated so not all facilities will be in operation like sinks and hand driers."
Serving as a transport hub for bus and rail commuters in the city, Union Square has taken extra precautions with added footfall expected from transport connections.
Mr Manson said: "With the bus station on our footprint, the keep left message will arrive with you as soon as you enter the mall.
"Being good neighbours to the train station, we have been working together to ensure the safety of passengers upon arrival. Commuters will be asked to abide by the social distancing rules in both areas."
He added: "We will be keeping a close eye on occupancy levels in the centre and the potential building of crowds.
"We are asking people to be patient during these unfamiliar times and to get ready for a new way of shopping."
---
Keeping everyone safe
The use of face coverings became mandatory in shops across Scotland on Friday last week.
Kenneth Bruce, operations manager at Aberdeen's Trinity Centre, said: "We have messages and signs promoting the government guidelines that are mandatory.
"All centre staff and retail workers will be wearing these coverings and we ask that our customers also follow these guidelines.
"It is the right thing to do, we have all got to take into consideration why we are all in the is situation.
"We can't wait to welcome our customers back for some much needed retail therapy."
Aberdeen City Councillor, Sandra Macdonald has urged the public to be vigilant and follow the safety guidelines.
She added: "Having done so well in Aberdeen in suppressing the virus by sticking to the rules, we must not squander this progress by becoming complacent now.
"The sad truth is that many of our favourite places to shop, eat and drink may not survive another lockdown, and this could have catastrophic consequences for the local economy.
"I'm sure we are all glad that restrictions are being eased and we can get back to doing more of the things we enjoy. But please follow the guidelines and adhere to physical distancing to keep yourselves and others safe and to protect our shops and businesses from the threat of further lockdowns."
In the Highland capital, the Eastgate Shopping Centre has introduced a high-tech cleaning solution to keep touch points germ-free.
Manager Jackie Cuddy said: "Comprehensive social distancing measures are in place and the centre has been undertaking deep cleans and sanitation procedures to ensure it is safe for visitors.
"The chemical used throughout the centre works unlike any other antimicrobial and provides protection for 30 days."
In order to control numbers the Inverness shopping centre will only be accessible from Falcon Square, High Street and car park entrances.
Ms Cuddy added: "There will be an Eastgate roadway to guide customers safely around the centre with the message being keep left at all times.
"Signage will request customers to wear masks at all times, shop responsibly and respect others by adhering to social distancing.
"It is exciting to feel the buzz coming back as retailers prepare to re-open their stores."
Majority of stores will be operating reduced hours with further confirmation from individual retailers in the upcoming weeks.
---
The recovery
It is hoped that with retailers reopening for trade the region can get back on its feet with businesses booming once again.
Stephen Young, general manager of St Giles Shopping Centre in Elgin, believes it is a matter of restoring trust with shoppers.
He said: "We want to build trust and confidence in shopping again.
"Here at the centre, staff have been working conscientiously to create a safe environment for customers, retail and management staff.
"As we reopen we look to re-energise sales for our retailers in store while following Scottish Government guidelines."
Moray Council leader and chairman of Moray Council's Economic Development Committee, councillor Graham Leadbitter said: "Shopping centres are a major building block in our overall retail offer and their reopening is an important step in getting our town centre footfall increased.
"Getting the numbers up again is absolutely critical and shopping locally will provide a vital boost as retailers do their best to get back on their feet and they need as much help from the community as we can give them."
In Aberdeen, the city council co-leader, Douglas Lumsden, said traders were greatly impacted by Covid-19.
He said: "I know from talking to many businesses that they can't wait to open again.
"The job retention scheme has saved over 27,000 jobs in the city but we need to start the local economy again in a way that does not cause a risk to people's health.
"Aberdeen has been hit hard not just with the pandemic but also the drop in the oil price.
"It is pleasing that shopping centres reopening in the centre of Aberdeen, it really feels that we are moving to the next stage and dealing with Covid-19.
"It is important to note that shops are opening but things are going to be different for quite a while, physical distancing, queuing outside and wearing face coverings is going to be the new normal for many months to come."
For Highland councillor Emma Roddick, it is important for Inverness to transition into a new normal.
She said: "It has been incredibly strange for myself and others in Inverness to see so many shops close their doors over lockdown.
"As they start to reopen and people go back to their work and lives, we can begin to move on to the new normal and regain some of the things we used to take for granted.
"It is great news for local traders that they can start to welcome customers again and begin the recovery from coronavirus.
"However it is more important than ever to stick to this guidance as relaxing now risks a further spike in cases and a return to lockdown measures."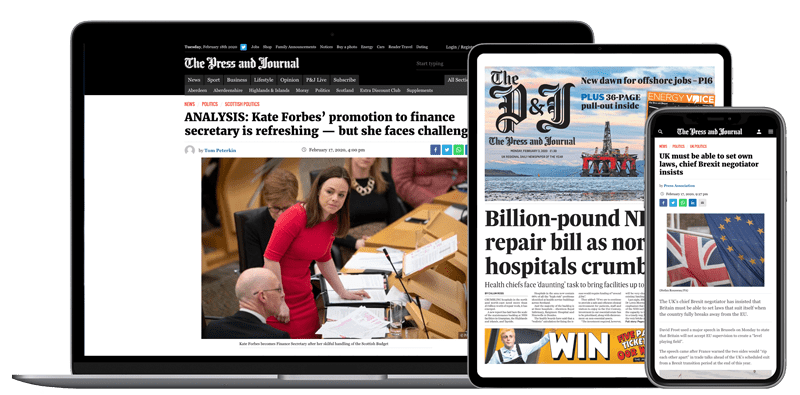 Help support quality local journalism … become a digital subscriber to The Press and Journal
For as little as £5.99 a month you can access all of our content, including Premium articles.
Subscribe