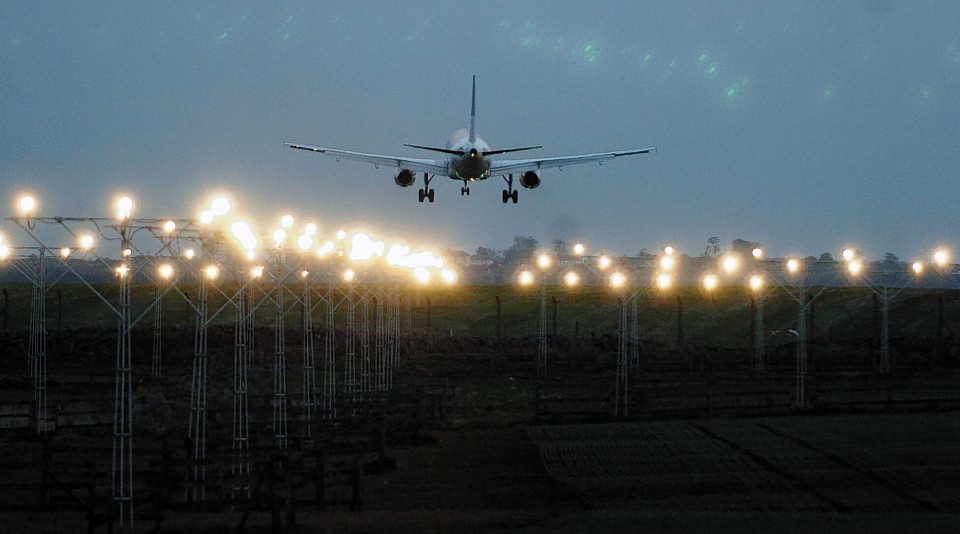 Drivers dropping off friends and loved ones at Aberdeen International Airport are to be hit with a £1 charge.
Motorists and taxi drivers are also facing a parking fine should they outstay their 10 minute welcome in the drop-off zone – introduced as part of a drive to reduce congestion and improve safety during airport peak times.
However, it emerged last night that the decision had been made without the consultation of the taxi driver's union or local taxi groups.
Non-airport cabbies now face having to pay the extra charge out of their own pockets until summer next year.
Last night north east MSP Richard Baker said airport bosses needed to be clear on their "reasoning" behind the decision, adding that the charge could be quickly hiked up.
Motorists will be monitored using a Automatic Number Plate Recognition (ANPR) system when the charges in the forecourt area come into effect on January 7, 2015.
Breaching the set time period will lead to a DVLA Parking Charge Notice of £30 being issued.
Labour MSP Mr Baker, said: "This has been introduced at Edinburgh Airport, it was £1 and it went up to about £3 I think. We need to be reassured how long it will stay at this level. The costs have gone up quite quickly at Edinburgh.
"I think a £30 fine for breaching it seems to be very harsh, we need to know the thinking behind that. That is very steep if you're a minute or two minutes over. It is not going to be welcomed by passengers.
"We'd obviously want to address safety and congestion, we need to know how well this policy will help that. We all want the place to be safe."
Airport managing director Carol Benzie said the management had "serious concerns about the safety of our customers and staff".
She added: "An increase in traffic using the airport has resulted in some examples of dangerous behaviour among drivers and the new system will allow us to better manage that behaviour."
Stevie Robertson, Aberdeen's taxi representative for Unite Union, said: "We have had no consultations, no discussions, it was just imposed.
"It seems an unfair charge to be passed onto the customers, we don't want to do that but it's a cost that's being imposed that we have very little control over."
Official airport taxis will still operate the same way within the airport free of the charge, something Mr Robertson finds "unfair".
During peak times when taxis are in demand, taxis can be invited to the forecourt for pick-ups, but otherwise will have to pay the new charge.
Graeme McColl, chairman of the Aberdeen Taxi Group (ATG), said taxi drivers may demand a change in the tariff for airport journeys at the next Aberdeen City Council taxi consultation group meeting.
He said: "We do have the ability to go back to council and ask, there is a possibility of getting a fair increase to cope.
"I would expect that's what's going to happen."
However, changes to fares could take as long as June to be implemented.
Mr McColl said: "There will be nothing anyone can do, the taxi drivers will just have to bear that cost, the tariff on the fare is already set.
"I believe that the trade will be pretty unhappy about it, especially the independents. Why should the taxi trade be out of pocket to drop off?
"Someone might be out there 10 times a week, that's an extra £500 a year they are going to be missing.
"They seem to be getting punished for providing a public service."
Earlier this month, Aberdeen International Airport was sold by Heathrow Airport Holdings (HAH) to Spanish firm Ferrovial as part of a deal worth more than £1billion.
Mr McColl added: "There was no consultation at all, which is slightly disappointing because they (HAH) were invited to all our meetings. They could have at least told us about it."
The charged forecourt area will be controlled by barriers, with drivers being asked to pay on exit.
A change machine is being installed in the forecourt for those who arrive without change, with exit barriers also accepting credit and debit cards.
Parking charges in the short stay section will be changed to reflect the changes, with the first 15 minutes in this section being reduced to £1.
A free drop-off option will be made available in the airport's long stay car park, and a free shuttle service to the terminal's entrance will be introduced as part of the plans.
Disabled passengers holding blue-badges will be allowed a 30 minute period in the drop-off forecourt.
Coaches will also have to pay a charge using a dedicated coach paying machine.