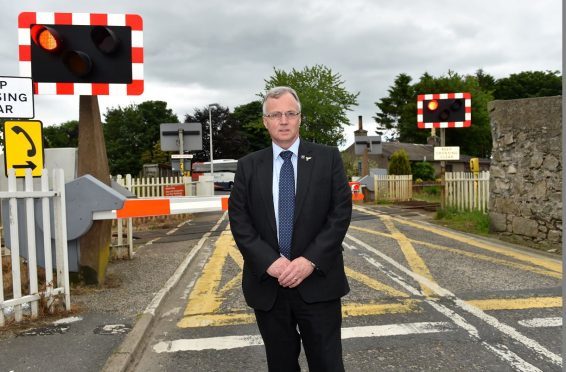 Calls have been made for train bosses to fix a level crossing barrier which has repeatedly broken down in recent months.
The device, at Bridge Road, Kintore, has failed to work on at least three occasions in the past two months.
Motorists have been stuck on either side of the barrier unable to get across the railway line.
On two occasions within the space of a week, in June, cars and buses piled up at the crossing for about an hour.
The problem reared its head again on Tuesday when the fault caused disruption for nearly three hours before Network Rail carried out a temporary repair.
This latest episode has prompted East Garioch councillor Fergus Hood, who  was caught up in June's disruption, to call for the organisation to deal with the issue as a matter of urgency.
He said: "It's something that Network Rail need to get to the bottom of as soon as possible.
"This is an important road for people coming in and out of Kintore and also people heading elsewhere, like Dyce.
"It has caused great inconvenience for local residents and it needs to be resolved.
"I would really hope that no-one does anything stupid if they get stuck there, there are signs warning people and I think most people are responsible."
Network Rail has said it will be examining level crossings in the area as part of improvements to the Aberdeen-Inverness route.
A spokeswoman said: "A temporary repair was made by 7pm last night in order to enable the barrier to open and a full fix was put in place this afternoon.
"As part of the Aberdeen-Inverness Improvement project we will be assessing the operation of all level crossings along the line of route and will update in due course."
Last year, it emerged the long-awaited rail upgrade between the Granite City and the Highland capital had been delayed – and doubled in cost from £170million to an estimated £330million.
The infrastructure project was scheduled to be completed by March 2019, but is now due to be finished six months late to allow some work to fall within the 2019-20 financial year.