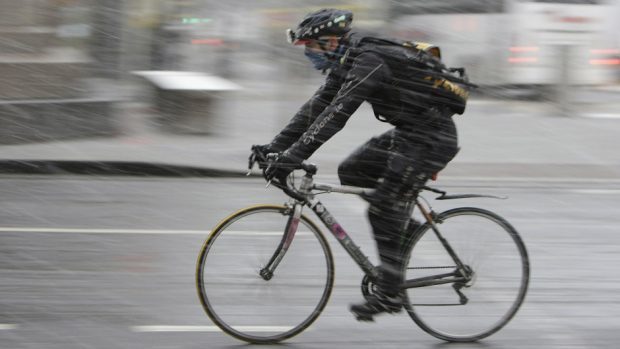 Transport chiefs have come under fire after it emerged the cyclists invited to become the first to take to a major stretch of the AWPR will be unable to use their own bikes.
The Go North East event will offer cyclists and pedestrians a once-in-a-lifetime chance to enjoy the new route before it opens, exclusively, to traffic.
However cycling groups have raised questions over the event after it emerged that they will have to be shuttled to the road.
They will then be offered event bikes, apparently for health and safety reasons, before being ushered onto the new surface "to wiz, wobble or weave" along the new carriageway.
Cyclists will be the first to experience the new Aberdeen bypass
Information on the Go North East website states: "During both event days, we are planning to have a selection of bikes for use in a 'come and try' arena.
"This will give an opportunity for novices and the more experienced to cycle a short section of AWPR B-T.
"Cyclists of all levels can wiz, wobble or weave on the closed road, promoting active travel and greener transport."
The organisers of Ride the North, a two-day event which takes place later this month in Aberdeenshire and Moray, have criticised Transport Scotland and claimed they failed to consult the cycling community about the true nature of the AWPR opportunity.
In an open letter to event organisers Transport Scotland, Ride the North's chairman Neil Innes stated: "I noticed yesterday the information presented online has been amended to state that cyclists cannot access with their own bicycles – but are invited to 'wobble and weave' on provided bikes for reasons of health and safety.
"I write to urge you to take soundings from local cyclists to gauge whether the proposals outlined will engage them as you would wish."
A Transport Scotland spokesman said: "The event organising team has consulted with a number of local cycling groups to understand and meet their aspirations while also maintaining the safety of all visitors and the security of the site.
"More details about the festival will be announced next week but we can confirm there will be opportunities to cycle on a lengthy section of the road.
"There has been no change to any information previously provided in June and at no time has a mass participation cycling event been envisaged, given the project remains largely a construction site at this time.
"The ethos of the Go North East Road Festival is to be as inclusive as possible so that anyone can take up the opportunity to cycle on the road before it opens to traffic, regardless of ability.
"It has always been necessary to ensure that entry to the event arena is controlled for security reasons.
"This means that rather than encouraging people to bring their own bikes, we will make bikes available for people of all ages and abilities to borrow and ride on a lengthy section of the road."