An investigation has been launched into a railway blunder which turned a "milestone day" for Scotrail into an "embarrassment" and caused chaos for hundreds of commuters.
The line between Aberdeen and Dundee was closed at about 5pm on Wednesday after a train derailed at Stonehaven, and remained shut all day yesterday while a probe into the incident began and the rail operator scrambled to organise 20 replacement buses.
The derailment followed the highly-publicised maiden journey of a new "high-speed" train from Aberdeen to Edinburgh – which broke down at Fife for 30 minutes and had to undergo repairs which prevented it from making the return journey to the north-east.
ℹ️#Stonehaven: The line between Aberdeen – Dundee will remain closed on Friday morning (12.10.18)
This is to allow the Rail Accident Investigation Branch to complete its investigation & Network Rail to carry out vital repair work to the track. pic.twitter.com/4AHA3Km1XL

— ScotRail (@ScotRail) October 11, 2018
Inspectors from the Rail Accident Investigation Branch (RAIB) spent hours examining the tracks at Stonehaven yesterday morning, prior to engineers working in heavy rain to remove the stricken train and repair any damage.
An RAIB spokesman confirmed that investigators had been sent to "gather evidence".
A Network Rail spokesman explained that the extent of the damage would not be known until the train was lifted from the line, but vowed that engineers would work overnight if they had to in the interests of reopening the route today.
The train which came off the tracks was not carrying passengers, and nobody was injured in the accident which forced the cancellation of all services to the south.
The incident on Wednesday evening forced scores of frustrated customers to hastily organise alternative transport arrangements.
North East MSP, Liam Kerr, was one of those affected because he was unable to return home from Edinburgh until 2am after his 9.45pm train was cancelled.
Mr Kerr said: "This is the last thing that Scotrail needed, but it is vital that a swift and comprehensive investigation takes place to establish what went wrong.
"Having looked at the results of the derailment, it is a miracle no-one seems to have been seriously hurt."
Taxi drivers reported a huge upswing in trade due to the incident, with one Norwegian couple reportedly paying a city firm £260 to be taken directly to Edinburgh.
While Scotrail arranged 12 replacement buses from Aberdeen and eight at Dundee yesterday morning, Stagecoach increased the number of services it ran between Aberdeen and Stonehaven to compensate for the loss of the rail service.
Among those affected by the chaos was Rahul Kohli, a comedian who had been performing in the north-east.
He was due to take to the stage in Birmingham yesterday and feared he would miss out as a result of the disturbance.
Mr Kohli, from Newcastle, described being left with no idea about what to do.
The 27-year-old said: "I came off stage as part of the Aberdeen Comedy Festival at Krakatoa around 11pm.
"I went back to my hotel and checked my Facebook – fortunately I saw the train had been derailed and all trains were cancelled until 6pm because otherwise I would have turned up for my train at 10am with no idea.
"I was up until about 3am trying to get some answers.
"The helpline was shut, the Twitter wasn't responding and the website was confusing.
"I booked a Megabus at 8am to Edinburgh. Financially it wasn't ideal, but better than not getting to Birmingham and losing the show fee I was doing here."
Aftermath
The line between Aberdeen and Dundee will remain closed this morning allowing repair works to be carried out on the track.
Scotrail are operating a replacement bus service until further notice.
UPDATE: Please find all replacement bus times below. #Stonehaven pic.twitter.com/0FNhao00Oy

— ScotRail (@ScotRail) October 12, 2018
Network Rail confirmed the train has been rerailed and will move off site with permissions from the Rail Accident Investigation Branch.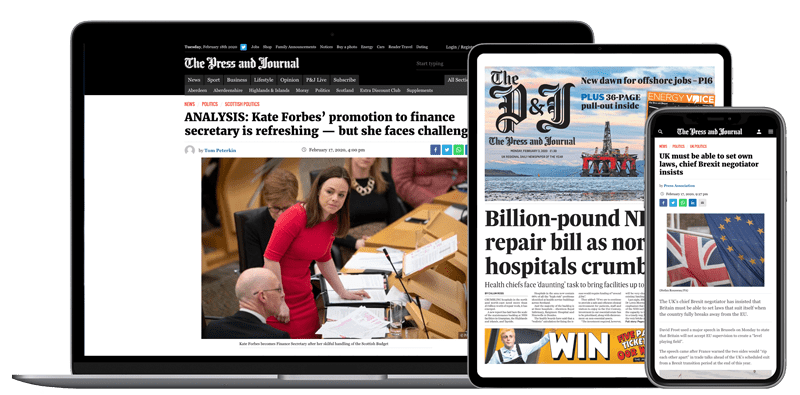 Help support quality local journalism … become a digital subscriber to The Press and Journal
For as little as £5.99 a month you can access all of our content, including Premium articles.
Subscribe