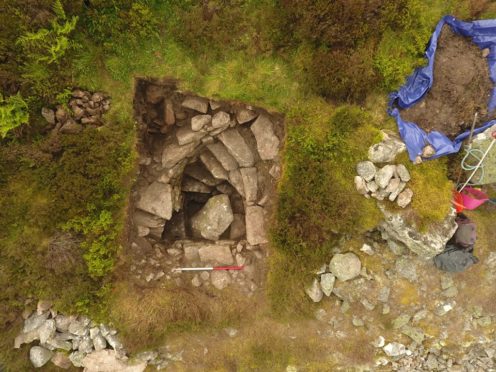 Archaeologists are winding down after making an extraordinary discovery atop an iconic north-east mountain.
The team, from Aberdeen University's Northern Picts projects, uncovered an ancient well at the Mither Tap, one of the summits of Bennachie.
The deep granite well would have served as a water source for the occupants of the impressive fort at the top of the hill, the remains of which can still be seen today.
A spiral staircase can be seen below the surface which runs all the way down to the water below.
The team estimate the fort is aged between 600-900 AD and have also said that it required advanced and complex work to create ramparts and a balcony.
Charcoal deposits with bone fragments, including sheep and fish, have been uncovered in several trenches and will be sent away for carbon dating.
Although the well was previously discovered in the Victorian period, it was re-covered and has lain beneath thousands of hillwalkers' feet ever since.
On Sunday, the archeologists welcomed visitors to the site to have a look at the items they had unearthed.
The team will conclude their initial excavations by Friday and could return to the Mither Tap in the future subject to funding.
Due to the peak being a scheduled monument, any preservation work will have to be carried out in consultation with Historic Environment Scotland and Forest and Land Scotland.