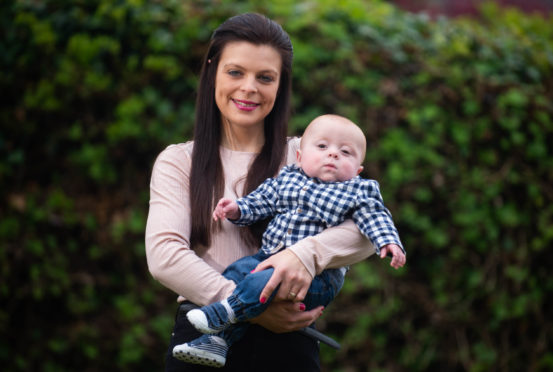 As proud Sarah Lawson hugs her eight-month-old son, she has to pinch herself that it's real.
Little Harry Smart was delivered 11 weeks early after doctors discovered he had non-immune fetal hydrops, which causes large amounts of fluid to build up – threatening to crush his organs.
It is estimated that more than half of all unborn babies who have it die in the womb.
At just a month old, doctors discovered he had a ruptured bowel and rushed him to theatre.
Devastated Miss Lawson and fiance Callum Smart, 30, were told the rupture was so bad it "looked like an explosion had happened in his stomach".
Now after a "miracle" fight for life – including 96 days in Aberdeen Maternity Hospital's neonatal intensive care unit – Harry, finally came off oxygen two weeks ago, marking an end to his eight month ordeal.
Miss Lawson was constantly told by doctors that her son was "critical".
The 22-year-old, from Alford, said: "He was really struggling to breathe and when they said he was on 99% oxygen and it only went up to 100%, we just thought, 'he's not going to survive'. It was really scary.
"But now you wouldn't know he had been so ill. He's perfect in every way. We are really lucky to still have him."
Miss Lawson had become concerned when she felt her unborn baby's movements slow down 25 weeks into her pregnancy.
The reason for this was that Harry's abdomen was filling up with fluid, which risked crushing his tiny heart and lungs.
As a result, Miss Lawson was monitored twice a week for a month but, at her final scan the fluid had spread, and Harry was delivered by emergency C-section on January 15 – weighing just 3lb 14oz.
Struggling to breathe, he was whisked to intensive care and put on full life support to keep him alive.
At this point, medics had no idea what was causing the fluid build-up and were testing for everything from leukaemia to liver disease.
After they realised the underlying cause was a ruptured bowel, he was rushed into a six-hour surgery.
Miss Lawson said: "They can't say for sure, but they think the rupture happened before he was born and that's what's caused the fluid to build up in his stomach."
Now against all odds, Harry is meeting his developmental milestones and is already on to his next challenge – learning to sit up on his own.
The "happy, chunky baby" has astounded medics and his parents with his incredible resilience after they feared he might not live more than a few days.
Miss Lawson, a nursery nurse, said: "You would never know he had been so ill.
"He's so happy and smiles and laughs at everyone.
"He's a little miracle – and a fighter."
'There is always hope and miracles do happen'
The family is planning to mark little Harry's first birthday by raising money for the neo-natal unit at Aberdeen Maternity Hospital.
Sarah Lawson, who described the team as "superheroes", decided to speak out about her son's fight to give hope to other families being cared for in hospital.
The nursery nurse had to wait four weeks to hold her baby for the first time, and knows how hard it can be.
She said: "We were always thinking the worst, especially for the first few days – they were really bad and we didn't think he was going to survive.
"It was a long, difficult journey. But there is always hope and miracles do happen, just like Harry. He is our world and perfect in every way.
"The staff in the neonatal unit are all superheros – they saved our child."
Harry was finally allowed home on on Easter Sunday after 96 days in the neonatal unit, where he spent more than a month on full life support.
He also needed several blood transfusions to boost his iron levels, was tube fed and was on home oxygen until just two weeks ago.
Now as he looks forward to his first birthday – a day his parents feared they would never see – they plan to mark the day by fundraising for the neonatal unit, to thank the staff for saving their son.
Miss Lawson said: "If it wasn't for them, Harry wouldn't be here."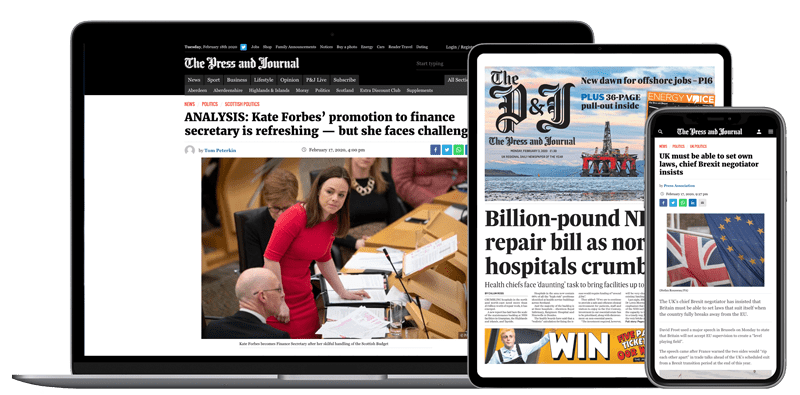 Help support quality local journalism … become a digital subscriber to The Press and Journal
For as little as £5.99 a month you can access all of our content, including Premium articles.
Subscribe