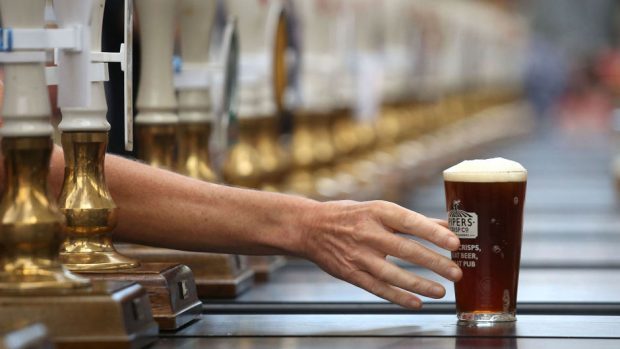 The despair in the hospitality trade was laid bare last night as one desperate pub boss made an emotional appeal for Nicola Sturgeon to ban the sale of alcohol in shops to help the industry survive.
The plea came as it was announced that indoor premises will not be allowed to serve drink to customers until at least the start of next month, while those able to sell alcohol outside will still have to close at 10pm.
The continuation of the scheme was met with dismay across the sector, with warnings that thousands of Scottish jobs stood to be lost the longer the measures remain in place and takings plummet.
Don Lawson, owner of the prominent Inverness bar Johnny Foxes, proposed a drastic move to preserve hospitality jobs.
In am impassioned letter to the First Minister, he wrote: "Pubs are facing an unprecedented crisis and the jobs and livelihoods of hundreds of thousands of people are in jeopardy.
"Many of our beloved pubs are at real risk, with significantly reduced trade and increased costs as a result of questionable restrictions.
"I feel the answer to the hospitality conundrum is as follows, that the Scottish Government bans all alcohol sales in supermarkets and off-licenses, including off-sales in pubs and restaurants.
"Allow the sale of alcohol to be restricted to pubs and restaurants – this will boost local economies and safeguard thousands of jobs."
The suggestion has provoked a mixed reaction across the industry.
Stuart McPhee, the director of Siberia Aberdeen and spokesman for the Aberdeen Hospitality Group, said the proposal had some merit.
He said: "I'm all for trialling anything. It's as radical an idea as any.
"I've certainly advocated a few ideas such as shutting down premises who are not following the rules.
"We need to be working as an industry alongside the Scottish Government to find a solution, given that we're the third-biggest employer in the country."
Since the sanctions were imposed earlier this month, many pubs have opted to close rather than trade under the circumstances while those still open are battling to make ends meet.
Shirley Bowden, director and owner of the Brew Toon brewery and bar in Peterhead, said selling her product in shops had become an increasingly important source of income.
She said: "We are busy with online sales, and the bars that do the outdoor areas are continuing to place orders.
"Our bar has been closed, but due to demand from customers, we have done a few pop-up bars in the local area, like at Cruden Bay harbour and the centre of Peterhead.
"We're just taking each day as it comes."
Darren Murray, the owner of the St Machar Bar in Old Aberdeen, said he was not in favour of banning the sale of alcohol in shops.
He said: "It would be a bit extreme, and it might actually drive some resentment towards hospitality.
"There should definitely be more stringent track and trace in other places like shopping centres, to show the issue is wider than just hospitality."
Paul Waterson, speaking on behalf of the Scottish Licencing Trade Association, claimed the sale of alcohol in shops was more likely to contribute to a rise in coronavirus cases.
He said: "If we consider that Covid-19 transmission primarily happens in the home and that there is no evidence that transmission is rife in licenced premises, then forcing people into drinking at home doesn't seem very logical.
​A spokesman for the Scottish Retail Consortium added: "Grocery retailers take their duty to responsibly sell alcohol incredibly seriously.
"An outright ban on off-sales would do absolutely nothing to help the hospitality industry and would enormously impact brewers, distillers, and other often Scottish suppliers whose ability to legitimately sell alcohol would be halted."
Paul Quinn, a partner of the family-run business at the Garlogie Inn near Westhill, said having an emphasis on food had helped the premises to remain successful this month.
He said: "Things haven't been all too bad during the recent restrictions.
"I can imagine bars that just serve drinks are really struggling, but we've always been more focused on food, with drink as an aside.
"Once the 6pm cut-off kicks in, we've been doing takeaway service as well, and we've started doing afternoon teas too, so we've adapted to what's been thrown at us."
A Scottish Government spokesperson said: "We fully appreciate how difficult it has been for the hospitality sector, but these new restrictions are based on the fundamental need to reduce transmissions, which we know is key to keeping infection rates as low as possible.
"It is by taking the tough but necessary action now that we hope to avoid even tougher action in future.
"All businesses will receive, proportionally, the same level of support over the 7 day extension – for each day of closure – as they did in the first 16 days of restrictions. And, for this limited period, we are also extending the Scottish Governments furlough support scheme for an extra week as well."