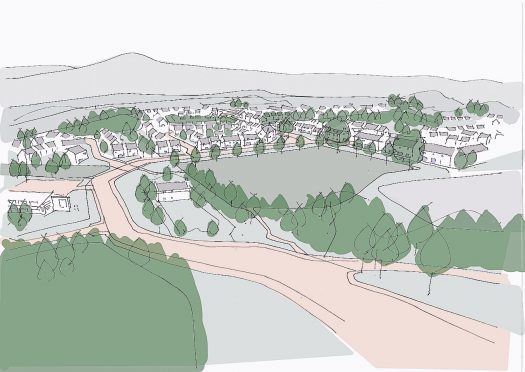 The developer behind proposals for a controversial housing scheme at the foot of an Aberdeenshire hill wants Scottish Government backing for the project – despite more than 600 protests to the plans.
And now the group which has led the fight against the 300-home Braehead scheme, near Scolty Hill, in Banchory, has accused the firm of tactics aimed at "wearing down" the public.
The plan would have been made up of 200 private rented, 75 affordable and 25 assisted living properties, but was refused by Aberdeenshire Council in April.
Developers Sandlaw Farming claimed it would help alleviate the council's demand for affordable housing.
But previous proposals for 400 homes at the spot were rejected by the local authority in 2015, a decision which was also appealed – before the developer withdrew it.
Last night Mike Adams, of the Stop Scolty Redevelopment group, said the appeal to the Scottish Government's directorate for planning and environmental appeals showed Sandlaw was trying to "force through their plans".
He added: "As a community in Banchory, we have enthusiastically taken part in the local development plan process and have consistently supported appropriate development in the community.
"This development has been clearly shown to be in the wrong location and has been resoundingly rejected at every stage of consultation.
"Despite this, we have faced repeat planning applications, repeat appeals and even an on-going appeal against the emerging local development plan (LDP).
"Developers know that, irrespective of the development plan, they can submit repeat applications on sites that are not included, appeal every decision against them and continue doing so long into the future.
"This deliberate tactic wears down the public and drives disengagement with the system."
However a spokesman for Sandlaw Farming responded: "We are doing nothing other than following the proper planning process.
"We are putting forward a reasoned argument against the council's refusal.
"Our primary conclusion is that there is a complete shortage of rental housing and the council has failed to provide the housing needed.
"A huge number of local residents are being priced out of the housing market. There is a huge need in the area to extend the range and choice of houses.
"Just as objectors go through the process of objecting, surely developers have the right of appeal. That is the planning process."
An Aberdeenshire Council spokesman did not wish to comment.