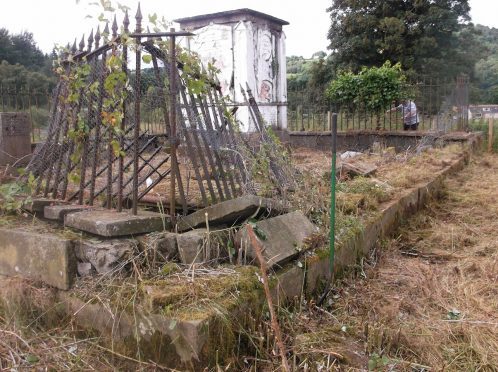 A Highland community is preparing to rebuild an ancient graveyard which has fallen into disrepair.
A number of notable people are buried at Cnoccan Buraidh on the outskirts of Drumnadrochit, including a Jacobite lieutenant who fought at Culloden and the commanding officer of the Army in Scotland when World War II broke out.
The burial ground was the final resting place for several members of the Grant family and has religious significance stretching as far back as the 5th century.
It sits on what is now farmland north of current Glen Urquhart High School and has fallen into disrepair, with the walls crumbling and overgrown.
Now a community project is bidding to repair the cemetery with support from present-day members of the Grant family.
David Fraser, vice-chairman of Glen Urquhart Community Council, said that efforts to protect the historic site have been ongoing since 1998 and small grants from Highland Council have helped secure it with a protective fence.
He said: "At the same time various members of the Grant family, whose ancestors are buried at Cnoccan Buraidh have been equally concerned about the state of the graveyard and earlier this year we managed to come together and take the project forward.
"In particular we are very grateful for a number of pledges of financial support, which along with any grants that are available, should make the repairs a viable project."
Among those buried at Cnoccan Buraidh is Patrick Grant of Lochletter, who fought in the battles of Prestonpans and Falkirk during the second Jacobite uprising.
He also fought at Culloden as a lieutenant of the Glengarry regiment.
He escaped afterwards and was in hiding in the dense woodland of Lochletter to avoid arrest.
Another notable figure with an impressive military background is Sir Charles Grant, who served as the commanding officer of the Army in Scotland between 1937 and 1940, during which period he was also Governor of Edinburgh Castle.
He was buried in Glen Urquhart in 1950, aged 74.
Sir Theodore Chambers, who in died in 1957, is also buried there having served as chairman of a major tea producer in Ceylon, chairman of Welwyn Garden City for 29-years and secretary and controller of the national war savings scheme during World War I.
A planning application has now been submitted to carry out the repairs, as the cemetery is classed as a Grade C monument.
The community is hopeful that it will be able to carry out the repairs next year.