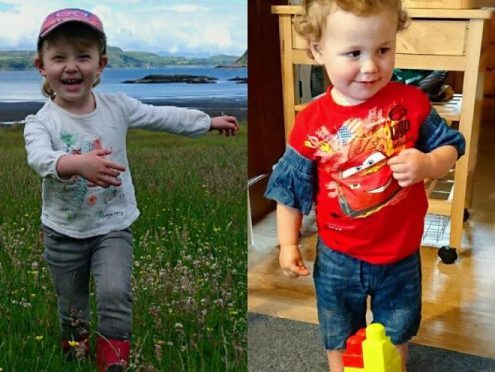 The Crown Office has confirmed they will take no further action in the tragic drowning of two toddlers after their family car crashed into an Argyll loch.
Siblings Leia and Seth McCorrisken died when the car their mother was driving went into Loch nan Druimnean, near Kilmelford, in July.
The Crown Office decision means there will be no Fatal Accident Inquiry – and so no safety recommendations – into the crash, despite the local community calling for changes to the road in the wake of the tragedy.
Aged two and three, the brother and sister from the isle of Luing were trapped in the car as it sank into the deep water of Loch nan Druimnean, near Kilmelford.
Their mother, Hazel Lancaster, who was driving, managed to escape. She was taken to hospital in Oban and later released.
The A816 Oban to Lochgilphead road runs alongside the freshwater loch, where passing motorists made desperate attempts to dive below the cold murky water.
Brendan O'Hara, MP for Argyll and Bute, said: "It is an absolutely awful case. My deepest sympathy and condolences to the family.
"Now that the investigation has been concluded I will be writing to Argyll and Bute Council to ask them to make an assessment on the possibility of installing safety barriers on this stretch of road, as local people have raised this in the past."
Locals said at the time that they were shocked to discover the loch was so deep close to the road.
Concerns were raised about the safety of the stretch of road and whether barriers should be installed along the side of the loch – and the community council was due to discuss it at meetings later last year.
Last night, a Crown Office spokesman said: "The Procurator Fiscal received a report in connection with the death of a three-year-old girl and a two-year-old boy after an incident close to Oban on July 6 2016.
"The investigation into the deaths, under the direction of Scottish Fatalities Investigation Unit (SFIU), has now concluded.
"After careful consideration of the facts and circumstances of the case, Crown Counsel concluded that no further investigation is required.
"The nearest relatives have been advised of the results of our investigation."
He confirmed that they decided there was no requirement for a FAI, which would have established if any recommendations could be made to stop such an event happening again.
Councillor Roddy McCuish, lead councillor for Oban Lorn and the Isles, said: "I welcome the result of the inquiry. However, I am surprised that there has been no recommendation for the installation of safety barriers on that stretch of road.
"The very fact that this tragic accident has happened I think is reason enough to consider measures to improve safety on that road."
Nigel Mitchell, chairman of Kilmelford and Kilninver Community Council, said: "Now that the investigation has finished, we can find out what members of the community feel about the outcome, and go from there.
"We will discuss this at the community council meeting next week and then we can start approaching Argyll and Bute Council about what the community wants."
A spokesman for the council said: "We continue to monitor our road network, and carry out regular safety assessments. We make improvements and carry out maintenance work where required, in the context of our funding position, national design guidance and our own annual roads report."