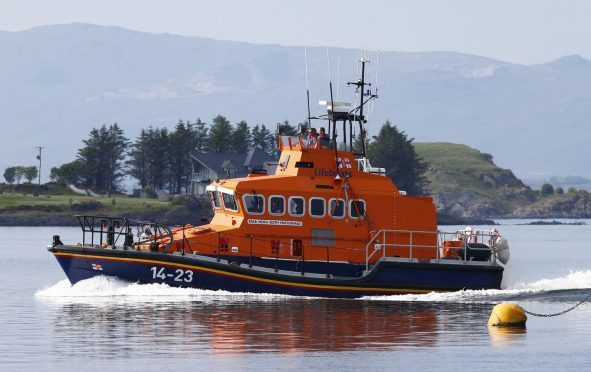 A lifeboat was called out twice in 12 hours in fierce weather conditions off the Argyll coast.
The volunteer crew of Oban RNLI Lifeboat, Mora Edith MacDonald, were first tasked on Tuesday by Stornoway Coastguard to respond to a commercial fishing vessel with a fouled propeller close to Inversanda Bay in Loch Linnhe. Due to the strengthening southerly winds the Coastguard transmitted a Pan Pan broadcast to request assistance from vessels in the area until the lifeboat arrived on scene.
As the lifeboat was proceeding to the area a fish farm support vessel Orcadia II responded to the broadcast and dispatched a workboat to assist the drifting vessel.
The lifeboat arrived on scene at 1.50pm and quickly passed a tow line and drogue. The fishing vessel was then taken in tow to a mooring in the Sound of Shuna, where the vessel was secured shortly before 3pm. The second incident took place just a few hours later when the lifeboat was launched to help the Scottish Ambulance Service with the transfer of a 57-year-old man from the Isle of Mull, who was suffering from chest pains.
The lifeboat departed Oban at 8:30pm and arrived at Craignure by 9pm where the paramedics transferred the patient to the lifeboat crew, who took the casualty to Oban where he was transferred to a waiting ambulance.
The man was taken to Lorn and the Isles Hospital for treatment. His condition is unknown.