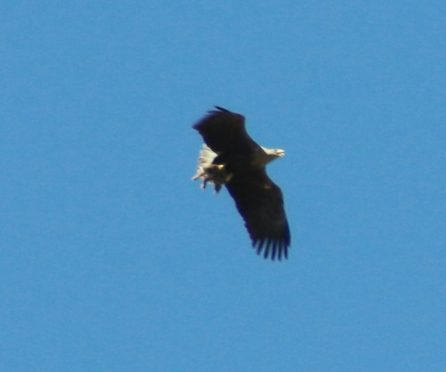 A new photograph of a sea eagle apparently carrying off a new lamb has reignited a debate between farmers and conservationists.
Crofters claim the birds are becoming "as common as crows" and maintain the matter is getting worse as they have no fear and will snatch a lamb within yards of a house.
A Lochaber famer has lost many lambs over the years to the protected birds – but one of his latest casualties managed to survive an attack.
Colin Cameron, 47, who farms 2,500 ewes on the Ardnarmurchan peninsula said: "One lamb was killed, but the other has a hole in its side after a sea eagle tried to take it.
"It is still alive as I had to feed it through a tube three times a day. It is on penicillin to stop any infection, so I can't let it outside, but generally we don't find any alive.
"The numbers of these birds are increasing and it's a major issue now, not just at lambing, but all through the summer, and it is affecting farms all the way from Skye down to Mull.
"There needs to be some sort of control as these birds are becoming as common as crows and we need to get the public's backing over this.
"People think we are just money-grabbing farmers, but we do everything we can to keep our sheep healthy and we don't like to see this happening to the poor lambs."
David Colthart, chairman of the Argyll and Lochaber Sea Eagle Stakeholder Group, said: "Hill lambs are easy targets to a large predator like the sea eagle and there are reports where adult sheep and ewe hoggs have been attacked.
"In 2014 there was a joint statement of intent between the National Farmers Union Scotland, NFUS, and Scottish Natural Heritage, SNH, which in turn led to the creation of local stakeholder groups.
"The agreement also committed SNH to a sea eagle action plan and it has a dedicated officer working this.
"We have had a nesting pair locally for over 12 years and experienced the damage that can be caused to a hefted hill flock.
"Participating in the scheme is the only route we currently have to try and reduce predation on stock."
A SNH spokesman said: "White-tailed eagles are protected by law. Given their presence occasionally conflicts with livestock rearing, we are working hard with farmers, crofters and conservationists to minimise any impacts. We are collectively trying to devise means of reducing the risks of lambs being taken live."