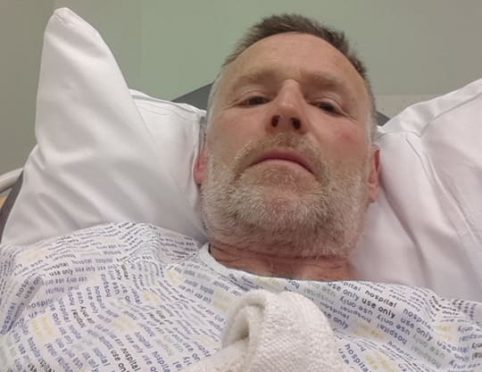 An experienced mountain guide has described how he thought he was about to die in a major rock fall in the Cairngorms.
Ron Walker had his arm severely crushed in the accident in the Northern Corries of the Cairngorms.
The 61-year-old mountaineer was climbing on Fingers Ridge in Coire an t-Sneachda.
He had previously warned of the challenging conditions with loose rock in the area – and had set off with a climbing partner to help clear some of the debris.
Now he is urging climbers to take extreme care or avoid the area altogether because of the tough conditions.
Mr Walker also urged walkers on the Goat Track path through the corrie below the climbing route to be aware of the risk of falling rocks.
He fell after a large slab gave way as he climbed above an area which had recently been cleared – and while Mr Walker's ropes held after he dropped around 16ft, he was suspended amid the falling rocks.
He said: "I really thought I had had it. When you see a granite block the size of a fridge heading down towards you there's not much you can do.
"Fortunately it just glanced my, arm crushing it."
Mr Walker's climbing partner's trousers were cut by a falling rock, which also sliced the party's belay sling.
Injured and in "blinding agony", the emergency services were called and Mr Walker was lowered to a ledge.
The party was eventually saved by Cairngorm Mountain Rescue Team, which carried out a technical lower of around 700ft to help the men to safety.
Mr Walker was airlifted to Raigmore Hospital around eight hours after the initial incident, where it was found he had crushed his arm though nothing was badly broken.
He expects to make a recovery in around a month.
Mr Walker, who has been climbing in the area for around 40 years, believes the conditions in the area are as dangerous as he has seen them.
He believes the relatively mild winter, which saw several rapid fluctuations in temperature, combined with recent heavy rain have caused several unstable areas of loose rock.
He said: "There's a lot of loose rock up there still, it's probably too dangerous to be about there."