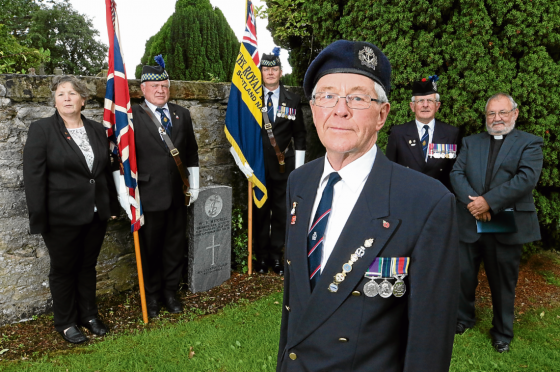 The Highlands remembered a fallen hero yesterday, exactly a century after his death in WWI.
William Mitchell, a 28-year-old seaman from Nairnshire, was a stoker on board the "Loch Ard" trawler which was part of the Royal Navy's reserve fleet.
He was among five crew who died when the vessel broke in two after an explosion during minesweeping duties a mile off the coastline of Lowestoft.
The former gardener was the third son of blacksmith Alexander Mitchell and Christina Mitchell (nee Forsyth) of Ardclach near Nairn.
Yesterday's poignant service at his Nairn Cemetery graveside was organised by the local branch of the Royal British Legion Scotland, which has arranged similar tributes for every Nairnshire serviceman who perished in the Great War.
Conducting the special service, local minister Rev Tom Heggie said: "This is a period of time when we remember the horror of the trenches and the thousands who died every day on the Western Front.
"Here, we remember a different courage. These trawlers were from ports around our coast and they were dispatched to different locations also around our home ports and abroad.
"Minesweeping was fairly basic and trawlers were paired to sweep channels for warships and merchant ships.
"They were fishing one day and, virtually without much training – if any – were part of the war the next.
"A different kind of courage – to sail in hostile waters to make a safe passage for others and in doing this he, along with fellow ratings, gave his life."
Rev Heggie read from Robert Laurence Binyon's poem "For the Fallen" before a lowering of the flags.
After a minute's silence and raising of flags, there was a short prayer of thanksgiving.