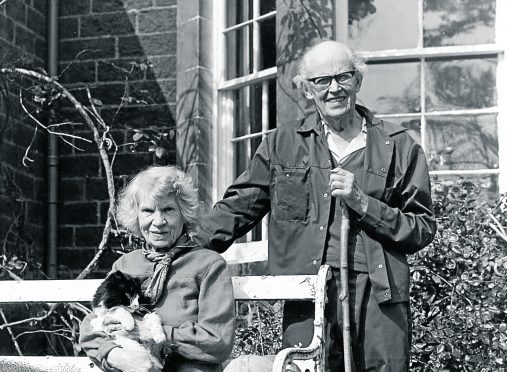 He was a man hailed for helping to preserve the Gaelic language.
But now it has emerged that Dr John Lorne Campbell had another literary fascination – Mickey Mouse comics.
More than 200 of the rare publications, dating from 1937, have been discovered in the attic of Campbell's old home on the remote Hebridean island of Canna.
The Disney treasure trove is believed to be worth up to £40,000.
Campbell, who died in 1996 aged 90, and his American-born wife Margaret Fay Shaw had no children, but he was so proud of his collection that he even ironed copies to keep them in pristine condition.
Campbell gifted Canna and his archives of library and sound recordings to the National Trust for Scotland nearly 40 years ago.
But it seems he was also a collector of less academic material.
It was Fiona Mackenzie, the trust's archivist and manager for the Canna House, who discovered the Mickey Mouse comic horde.
She said:"The story of John Lorne Campbell and Margaret Fay Shaw's creation of the Canna Archive is now well known.
"As we discovered in Canna House's attic, what is less well known is that John Lorne Campbell's tastes clearly went  well beyond Gaelic literature and poetry and he had a great sense of fun."
The comics cover the month when World War II ended in Europe, the day Nationalist-controlled parts of Spain adopted the fascist salute, and wartime issues that helped brighten children's lives through the darkest hours of the conflict. There are also festive Christmas editions from the period.
Campbell, who was born in Argyll, bought Canna with his wife in the late 1930s, farmed the island for 40 years and made it a sanctuary for wildlife.
The former Oxford University student continued to record a disappearing Gaelic heritage and wrote extensively about Highland life and culture.
In 1981 he gave the island to the National Trust.