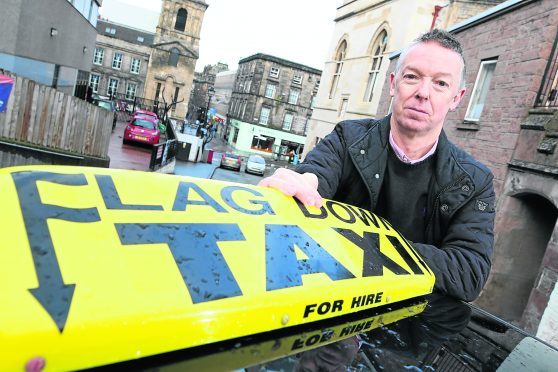 Inverness taxi drivers are launching a petition in a bid to save the Castle Wynd taxi rank from closure.
Inverness Taxi Alliance (ITA) is spearheading the campaign, which will see every passenger asked to sign against "dangerous" proposals to move the rank.
Highland Council said that no decision has yet been taken and there will be further consultations – but there are plans to develop Castle Wynd.
But ITA Chairman, Andrew MacDonald, and vice chairman, Duncan Fraser, are worried that it is a forgone conclusion.
Mr MacDonald said: "They have gone to war with us instead of offering reasonable accommodation for the taxis.
"The situation of the rank is very much worth having there, with access to the west of the city and elsewhere as you can go both ways.
"We don't know what is going on."
Last night, the council's city manager David Haas defended what he said at this stage are simply proposals "to bring better amenities to the area".
He said: "I can confirm we have plans to develop Castle Wynd, noting the importance of that area to Inverness. But we recognise that it is a challenge and we recognise the importance of taxis."
He admitted that discussions with taxi representatives were "challenging because they wanted to retain the use of the rank".
With that in mind, he said Upper Bridge Street and the High Street near to Marks and Spencer could be used as taxi ranks.
Mr Fraser dismissed those sites as unsuitable because access to the west of the city would be inadequate and fares would therefore rise.
He said: "We have not been offered any decent substitute for Castle Wynd, what we have been offered is unsuitable and unsafe."
"They have not considered the affordability or a person's mobility," he added – that is something the Council denies.
Mr Haas maintains that "no final decision has been made" but the ITA feels strongly that things are moving in the wrong direction.
They wrote to the local authority's chief executive complaining that Mr Haas failed to meet them having committed to doing so in January.
Mr Haas said last night that "we will still be meeting" and said there had already been a number of minuted meetings with the ITA when the proposals first emerged.