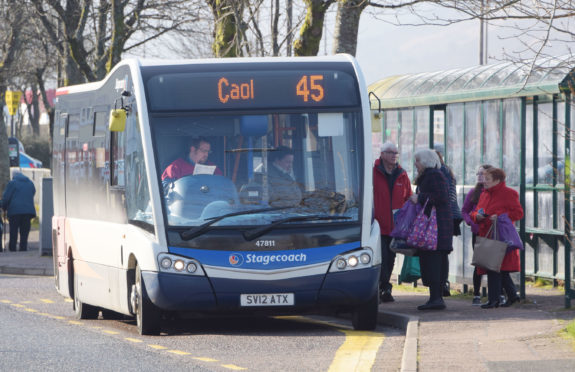 A community has been left "disappointed" after Stagecoach announced it is to review all of its Lochaber operations, with at least one bus service to be withdrawn next month.
The bus operator employs 16 staff in Fort William and runs eight vehicles but Mark Whitelocks, managing director for Stagecoach North Scotland, said it can no longer sustain the operation.
Employees are now being consulted on future options for the business, including the potential closure of the Fort William depot.
Yesterday a Stagecoach spokeswoman said the hope is to relocate the "majority" of staff elsewhere in the Stagecoach North Scotland business or with other bus operators.
Mr Whitelocks said they are working closely with the trade union to protect jobs and "as many of the local bus services as possible".
It was confirmed yesterday that the Stagecoach 45 service – the Caol circular route – will run for the last time on March 17. The spokeswoman said Highland Council did not accept their alternative proposals for the route.
Fort William and Ardnamurchan councillor Andrew Baxter said: "My initial reaction is of course disappointment, but I am not greatly surprised because I had the impression Stagecoach treated Lochaber as a bit of a second class service compared to the rest of the Highlands.
"They have tried to cut back Sunday service on some of the rural routes in Lochaber last year and, following public opposition led by me, reinstated these routes.
"Many residents in Fort William and other Lochaber areas have noticed that Stagecoach competitors such as Shiel buses, have been able to provide a far superior service having won other council contracts last year – a better service and better buses.
"While I am disappointed that Stagecoach has made this decision I am hoping other providers will come forward."
The Stagecoach spokeswoman said it will continue to discuss its proposals with the council and other operators to protect as much of the local network as possible.
Since April last year, the company has been unable to cover the cost of running its local network due to a combination of tender losses, reduced passenger demand and higher costs.
Scottish Citylink services to Glasgow, Inverness, Oban and Skye will continue to operate.
Local MSP Kate Forbes said she will later this week meet with Mr Whitelocks to discuss the future plans.
She said: "Bus services are vital in Lochaber because not everybody has a car and also because we need to get more people onto public transport.
"I will be tracking this review carefully and sincerely hope that it might lead to better services, instead of poorer provision."
Stagecoach has operated the Fort William bus business since 2008 when it took it over from Rapsons.