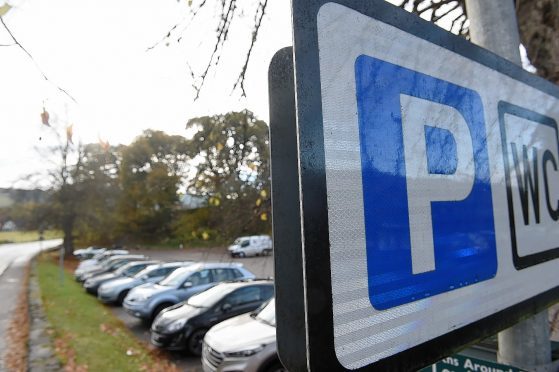 Furious Dingwall residents and traders have accused Highland Council of drawing up controversial parking fee proposals "on the back of a fag packet".
At a heated public meeting in the Ross-shire town this week, over 130 people packed into the Legion hall to challenge budget leader Alister Mackinnon and Councillor Angela Maclean who both represent the local ward.
The majority of locals remain convinced fees would undermine the fragile local economy at a time when the town should be reaping the benefits of a tourist boom from cruise ships docking in Invergordon and the NC500.
The concerns are parking for a five day working week could cost in the region of £1,300 a year and drive valuable local custom to places with more "pull" like Inverness.
Jim Aitken of the Federation of Small Businesses said: "I understand you have to balance books but these business owners have to balance their books and you are making it so much harder for them.
"I think it is shocking the lack of information that you are bringing to the meeting tonight. Have you done an impact assessment on businesses and how it will affect businesses in the area, has that been carried out by the council?"
Mr Mackinnon answered "no" which caused some in the hall to jeer.
Julian Foot, a retired transport planner with three decades of experience, said: "Number one: you have a place with great car parking pressure – Dingwall doesn't have that. Number two: you have to be in a strong robust centre where people want to go regardless of whether they pay for parking – that isn't the case in Dingwall.
"The sort of studies that I had to carry out were extremely detailed to get to the stage that you got to what seems to me on the back of fag packet."
Ms Maclean responded: "There are so many decisions as councillors that none of us have liked and unfortunately this is another one.
"What has happened in the council over the years, we have tried to be more business-like. Everything has a price – to maintain a carpark costs money."
Mr Mackinnon reiterated that the money derived from parking in Dingwall was part of region-wide plan that would see £1.4 million generated from other areas raising prices. He maintained that charges would "increase footfall on Dingwall High Street".
MSP Kate Forbes, who has a constituency office on the High Street, said: "One of Dingwall's great assets is the plentiful supply of easy parking. Anybody can see that the High Street is busier at the bottom, where you can park for thirty minutes and pop into a shop.
"Introducing parking charges will disadvantage shops on the High Street as it will likely push people to the supermarkets instead of the local stores."