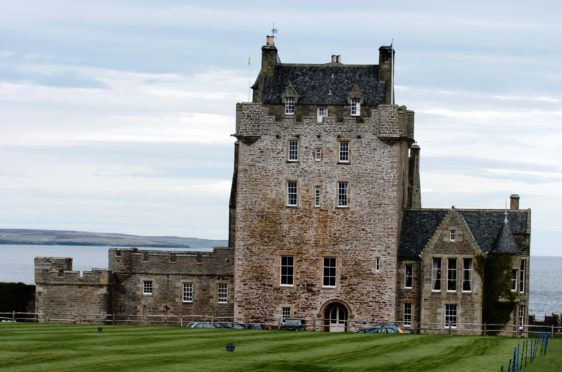 A Highland hotel, on the market since December 2015, has had its asking price slashed to £3.9 million in a bid to attract a new buyer.
The five star Ackergill Tower, near Wick in Caithness, has played host to some VIPs and celebrities over the years with the likes of Richard Branson, Phillip Schofield and the cast of popular TV show The Only Way Is Essex all checking into the resort.
Schofield got married at the venue in 1992 and the popular TV presenter has also named Ackergill Tower as one of the places where he would spend his dream 24 hours.
The resort totals 32 bedrooms, 31 bathrooms and 10 reception rooms as owner Mike Clare, founder of Dreams bedroom sales, plans to sell Ackergill and his famous offshore fort venues on the south coast of England.
Suzanne Hurndall, chief executive of Ackergill Tower operators Clarenco and Amazing Venues said: "He has had a lot of fun with them and is now ready to sell."
Mr Clare has owned the property since 2009 and has overseen the conversion of a former stable into accommodation for guests. A conference and function room, capable of hosting over 200 guests, was also created during his ownership.
Henry Jackson, partner at Knight Frank, said: "Both Solent Forts and Ackergill Tower, each one unique, will provide an incoming purchaser with the exciting opportunity and privilege to own property with such exceptional heritage and history.
"There is considerable potential for an incoming purchaser to build on Mr Clare's hard work and legacy. These businesses are yet to mature and there is significant scope for growth and development of these enterprises going forward."
Dating back to the 15th century, Ackergill Tower had previously been on the market for offers in the region of £4.5 million. The Tower is set within 30 acres of its own land and comes with a lease for shooting and fishing rights spanning across an adjoining 3,000 acres of land.
The original Tower is believed to date back to 1475 before an extension to the property took place in the mid-19th century by famous Scottish architect David Bryce. The property was rarely used for around 100 years before being renovated and refurbished in the 1980s.
The property is situated around three miles from Wick Airport.