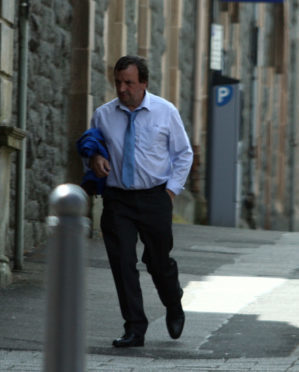 A fishing boat that sank causing the death of a father-of-four was uninsured, a fatal accident inquiry heard yesterday.
Scott MacAlister, 40, from the isle of Luing, perished when the small prawn trawler Speedwell, which he was operating single-handedly, sank suddenly south of Oban on April 25, 2013.
The inquiry into the circumstances surrounding his death is taking place at Oban Sheriff Court.
The owner of the Speedwell, John Connell, 59, gave evidence yesterday.
FAI hears from fishing boat safety inspector over prawn trawler sinking
He was employed by Argyll and Bute Council as the skipper for the Cuan ferry in the sound of Luing when he bought Speedwell in 2008.
But it was laid up for a considerable number of years before it actually started fishing. Mr Connell said that while he was a boat master with the ferry job, he had no fishing qualifications.
He had done a bit of creel fishing 20 years previously as a hobby and to make money.
The inquiry was told that Mr MacAlister had started fishing for prawns on behalf of Mr Connell in 2013.
Mr Connell told the court that he bought Speedwell in June 2008 for £25,000 plus vat, a total of £29,375.
Fiscal David Glancy asked: "Was it set up in order that it could be operated single handedly?"
He replied: "As far as I know, yes."
Mr Glancy said: "It was a significant sum of money.
"What steps did you take in order to protect and insure your investment?"
Mr Connell, who said he had been gifted a large part of the money, answered: "None. The boat wasn't insured."
Mr Glancy continued: "From working in the marine industry as you did, you will be aware that before a boat is capable of being insured it requires to be serviced, not unlike a motor vehicle.
"Are you aware that to have gotten insurance for the boat you would have had to have submitted a survey?"
The owner said: "No. I didn't have anything to do with insurance of boats, that's done by the council."
The Fiscal asked: "What was your reason for not insuring the boat?"
Mr Connell replied: "The cost was £5,000, I could not afford it."
He said that he had work done by engineers on Luing to convert the Speedwell to a creel boat while it was laid up between 2008 and 2013.
He also confirmed he rectified a list of safety issues following an inspection in 2009.
Mr Connell said the boat had two life jackets, two flotation devices, two life buoys, a life raft, flares and other safety equipment.
He confirmed that he did not have the safety equipment serviced.
Mr Connell's evidence continues at Oban Sheriff Court today.