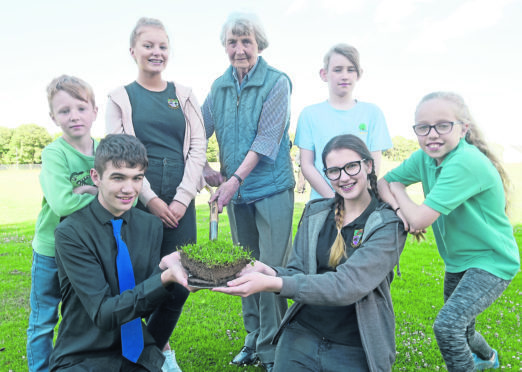 The construction of a brand new secondary school in Alness took its first steps last night as a turf-cutting ceremony took place to signify the beginning of works.
In a fitting touch the first rector of Alness Academy was remembered as Adrianne Meikle, widow of former rector Robert Meikle, was on hand to cut the turf at the new site.
Mrs Meikle was joined by pupils of Alness Academy as works got underway on the brand new state-of-the-art school, expected to reach completion in 2020.
Mrs Meikle said: "I was very delighted to be asked to come down. The current building is an eyesore with its weather beaten panels. I couldn't see how staff and pupils could still take pride in such a building.
"Mr Meikle would be delighted that Alness and the community will be getting a new school by 2020."
Local councillor Carolyn Wilson said: "Today is a really important day for us, a day we have waited for, for a very long time. Mrs Meikle is special to all of us, and she tells us there were buckets in the old school since day one, so here we are to no buckets and no drips.
"We'll look forward to an absolutely beautiful school that is fit for purpose."
The new school will be constructed beside the existing Alness Academy which will remain open during the period of construction. Community facilities such as a six lane 25 meter swimming pool, four court games hall and gymnasium will be easily accessible for both members of the school and wider community.