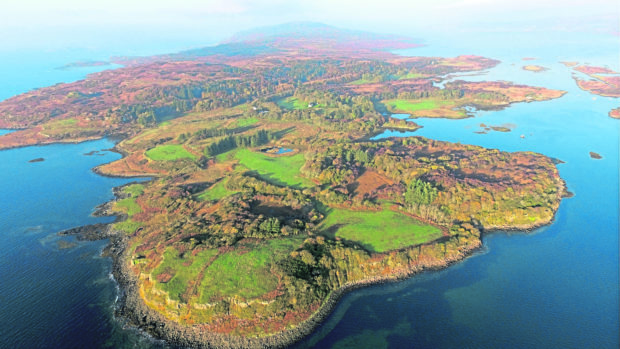 The former owner of Ulva has questioned the tactics behind the community buy-out, claiming he was "kept in the dark" throughout.
Following the £4.65million take-over of the island north-west of Mull, Jamie Howard released a family statement via an online blog criticising the process.
The Scottish Government had prevented Mr Howard, whose family had owned the island for 70 years, from selling Ulva on the open market as interest had been lodged by the North West Mull Community Woodland Company.
He said: "The Howard family wish the very best for the residents of Ulva and good luck for their future. However, the road to this moment has been a somewhat dark one.
"The strong indication is that the driving impulse for this acquisition has been, and is, not so much for the welfare of Ulva and its resident community, but more to satisfy the long held personal ambitions of a few relatively local individuals on the island of Mull, to benefit SNP (Scottish National Party) party politics and prejudices, and to feed media headlines.
"At every stage of the proceedings Jamie Howard was kept in the dark and stonewalled."
When the missives were finally concluded last month, he also said: "It has been a stressful and uncertain time not made any easier by the distasteful and unhelpful conduct of the political class."
An SNP spokeswoman said: "The SNP is committed to empowering communities through land reform – enabling them to determine their own futures.
"Ulva was once home to over 800 people, and now has only a handful. This is a story which is, sadly, all too common to many of our islands.
"Twenty years ago the people of Eigg bought their island from its owner and since then the community has gone from strength to strength, the tide of depopulation has been reversed and there is a future for young people growing up there.
"Scotland has a great story to tell on land reform and we wish the local community the very best as they seek to regenerate and repopulate the island of Ulva."
MSP Michael Russell added: "I am sorry the family feels this way. At no time during the entire purchase process did any member of the family contact me to discuss the criticisms they had of the Government or to mediate – if they had I would of course have been pleased to meet them and take any issues raised to the Minister."
A spokesman for the community trust said they did not wish to comment.