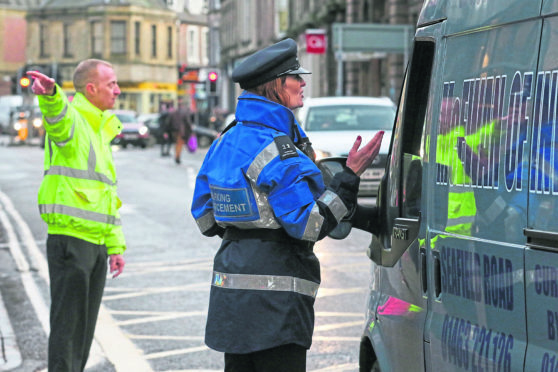 Council bosses in the north have revealed plans to roll out their unpopular penalties scheme to more towns and villages in the Highlands – and bring in clamping and towing as further punishments.
Since Highland Council took over legal responsibility for traffic enforcement from the police in October 2016 under a scheme known as Decriminalised Parking Enforcement (DPE), fine money has come rolling in at a rate enabling the council to describe the first year of the scheme as "cost neutral".
Around 16,000 penalty charge notices (PCN) have been issued by the first enforcement centres put in place in Inverness, Fort William and Portree, to the value of almost £661,000.
After early payment discounts, cancelled and written-off fines, the net value of the PCNs is more than £420,000, giving a penalty an average paid value of £43.
The growing income will enable the rolling out of the scheme to Skye, Dingwall, Wick, Thurso, Nairn, Invergordon, Ullapool and Tain, and possibly further afield if resources permit, the council says.
The scheme so far employs 11 enforcement officers and one supervisor. More officers will be employed as it grows.
Clamping charges have been set at £40. Having your vehicle towed away will set you back £150 plus £20 per day.
Dingwall is among those communities next in line for DPE.
The town has been vigorous in its opposition to the introduction of car parking charges, and the introduction of fines was described as 'an absolutely terrible decision for the council to make' by Dingwall Community Council chairman Jack Shepherd.
He said: "It seems like the council are doing everything they can to alienate people in the outlying areas.
"I'm not a huge fan of clamping and towing away unless it's really justified, but for people to be going about their business in a market town like Dingwall and then coming back to their car and finding it clamped is unacceptable.
"Parking attendants should focus on moving on people who park inconsiderately, like those who park on the High Street which is a pedestrian precinct."

Councillors on the Environment, Development and Infrastructure committee welcomed the continuing roll-out of DPE as part of the council's parking policy for the next five years.
Committee chairman councillor Allan Henderson said: "We have the assurance that any surplus derived from parking enforcement must be reinvested in the service delivery or transport infrastructure improvements and this is vital as we move forward with our future decriminalised parking enforcement policy and plans for local area parking."
William Gilfillan, Highland Council's director of community services said: "Local decisions will be taken at local committees where parking services need to be delivered to meet the outcome of the Parking Redesign that Council agreed earlier this June."